Glass Forges Newest Billionaire
MANUFACTURING: Donald Friese reaps $1.3 billion from deal.
Monday, September 7, 2015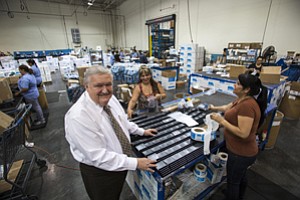 Editor's Note: This article has been corrected from an earlier version.
When Donald Friese joined CR Laurence Co. as a warehouse worker in 1961 soon after his discharge from the Army, he was the seventh employee of an ordinary local glass company.
"At the time, all I had was $125 in my pocket," Friese said. "I was just looking for a way to pay the rent."
He can certainly afford the rent now. After spending his entire career at the Vernon glass products supplier, becoming sole owner and building it into a global player with 1,700 employees on three continents, Friese last week sold the company in a deal that makes him L.A.'s newest billionaire.
In one of the larger deals the glass industry has seen in years, Friese sold CR Laurence to Oldcastle Building Envelope, a subsidiary of Irish building supply giant CRH Group, for $1.2 billion in cash and a $100 million promissory note. He'll also stay on as CR Laurence's chief executive.
"It's a real Horatio Alger story," said Lloyd Greif, a downtown L.A. investment banker who advised Friese on the deal.
Though Friese will pay hundreds of millions in taxes after the deal, his personal net worth is almost certainly more than $1 billion, Greif estimates, thanks to his ownership of the millions of square feet of industrial and office real estate CR Laurence occupies around the globe.
Friese is sharing some of his newly liquid wealth. In an unusual move, he sent a thank-you bonus note – with a check attached – to each of his employees with at least one year of service at the company. The payouts total in the ballpark of $80 million, with the average eligible worker potentially taking home nearly $50,000.
"It's the employees who have made the company the powerhouse that it is and they deserve the recognition and the reward," Friese said last week just after signing the final paperwork on the company's sale.
Succession planning
For Friese, the sale marks the culmination of a five-year effort to sell the company, one that started as he turned 70 and realized he had no viable succession plan.
"I would often joke that if something happened to me, my wife would run the company," he said. "I love my wife dearly and she is an absolutely wonderful person, but she doesn't know the business."
Friese added his son wasn't yet ready to take the reins of a global company – "In 10 years maybe, but I needed a plan in place sooner than that."
For reprint and licensing requests for this article, CLICK HERE.
Prev Next