Could Dov Charney Sew Up New Gig?
FASHION: Associates say ousted clothing exec has unique traits.
Monday, October 12, 2015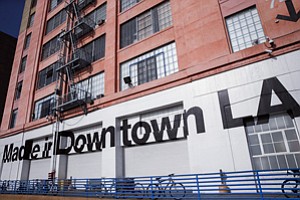 It is the stuff of great drama: A flawed young hero lands in Los Angeles and starts a business armed with ambition and $10,000 borrowed from his father. Powered by his vision and charisma, sales hit $600 million by the end of the first act.
But Dov Charney, founder of American Apparel Inc., has just seen the curtain fall on Act 2, an act which saw his company wrested from him and, within a year, file for bankruptcy protection. At the time trading was halted two weeks ago, it had a paltry market cap of around $20 million.
Now, speculation is rife about what Charney's going to do in the third act.
He is a polarizing figure, one whose drive and intuition about what young people wanted in clothing engendered fierce loyalty among many former colleagues, suppliers and shareholders, some of whom are encouraging him to move on from American Apparel and start a new venture.
"There's no reason why Dov, given the media attention he has, couldn't build a brand pretty quickly," said Michael Bigger, founder of New York's Bigger Capital Fund, an American Apparel shareholder. "He's done it once; there's no reason why he couldn't do it twice. He's polarized people, and for brand building, that's always very good because you gain attention. That's how he built the American Apparel brand."
Charney, 46, isn't talking about what's next, though it's believed he has not yet given up hope of regaining control of and reviving American Apparel.
The company's hard-to-replicate quirkiness is part of what attracted Bigger to invest in American Apparel. He said Charney's genius is in managing and building a brand.
"What's hard in that is gaining attention – finding the emotional message that connects with the customer and having the platform to be able to show that message in the world and to have people listen to you," he said.
His fund's first investment came in 2011, and at one time it owned 3.2 million American Apparel shares. After the board suspended Charney in June of last year, Bigger said that he sold nearly all of his shares. With Charney gone, he no longer trusted the board was looking out for shareholders' best interests.
Former employees, shareholders and associates say another defining factor about Charney is that his drive to build the business was not about riches.
"Dov, like many founder-entrepreneurs, is not motivated by money," said John Brooks, an American Apparel shareholder and a former business development executive at the company under Charney. "For him, it's about continuing the mission."
Prev Next