Listen Up
Podcast pioneer Adam Carolla now tops in format
Monday, November 23, 2015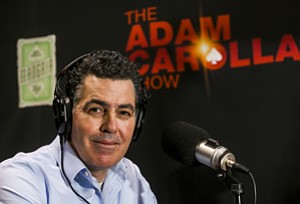 In just six years, L.A. broadcaster Adam Carolla has gone from podcasting pioneer to king of an established medium.
This month, the former radio host signed a five-year contract with Beverly Hills' Podcast One to keep hosting "The Adam Carolla Show," whose five episodes a week garner 5 million downloads, making it the most listened to podcast on the planet, according to the Guinness Book of World Records.
The 51-year-old comedian is at the forefront of a money-spinning digital platform that's got advertisers flocking to the format.
"Unlike every yahoo who tells the Guinness Book their fingernails are 4 feet long, this world record translates into actual monetary value," said Carolla. "The sales people certainly bring it up when pitching my show to advertisers."
Founded in 2012, Podcast One makes money by selling ads across its network of 200 shows. It then shares revenue with programmers such as Carolla, whose Glendale company Carolla Digital produces not just his show but also a dozen others for Podcast One.
"Madison Avenue knows the audience numbers are a thousand times more accurate for podcasts than TV and radio," Carolla said. "Those are, virtually, still being done with an abacus and a golf pencil, while computers were made to measure this stuff."
The increase in advertising dollars has allowed his show to turn a profit and gave him the opportunity to produce those other podcasts, such as magician Penn Jillette's "Penn's Sunday School" and "Dr. Drew," hosted by Dr. Drew Pinsky, Carolla's former colleague on the "Loveline" TV and radio shows.
Carolla Digital's revenue has increased every year and in 2015 it will generate $5 million in sales, according to Carolla.
The rapid growth of his podcast empire, which saw him overtake previous podcast world-record holder Ricky Gervais, is mirrored by the industry itself. Each month, 46 million Americans listen to podcasts, up from 39 million last year, according to a 2015 Edison Research and Triton Digital study.
Various trade sources value the podcast advertising industry at approximately $50 million annually, but there's a consensus that the market will grow quickly thanks to an increase in awareness and availability.
For example, following in the recent footsteps of London streaming business Spotify Ltd., Google Inc. recently announced it will soon offer podcasts as part of its Google Play service. Apple Inc. has long been in the podcasting business and there are currently more than 250,000 podcasts on iTunes.
Prev Next