Connected
Tech startups eager to link with Gary Winnick
Monday, July 20, 2015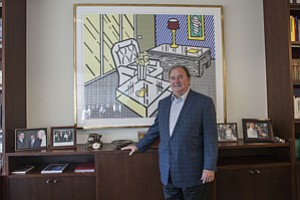 Gary Winnick can't retire.
"I retired twice in my life. I retired at age 37. I lasted through lunch," he said. A few years later, when he was 41 and not needing to work, he retired again. "I took up kickboxing and weight lifting at Gold's Gym in Venice. … I did that for six months. Then I said I'm going back to work and probably will never retire."
He has kept his word, so far, but some might have wondered if there were a third retirement on Winnick's resume. The 67-year-old chairman and founder of Winnick & Co. has been out of public sight for 13 years.
The one-time chairman of telecommunications firm Global Crossing, Winnick has kept a low profile since he was criticized for selling $734 million worth of Global Crossing stock before it filed for Chapter 11 bankruptcy. The move made for ugly headlines and he's been dogged by the press since.
"I haven't been off the radar. I just don't spend my time with the media because it's not of great importance to me," said Winnick. "If I had something to sell then I might use the media, but I'm not selling anything. And I have no apologies for anything."
Winnick might have nothing to sell these days, but he is a buyer – and becoming a big one – in L.A.'s tech startup scene.
"I believe L.A. is going through a resurgence that will carry this city through the next 100 years," he said of the recent technology boom. "We want to participate in that."
The first indication that he was stepping into the tech scene came in a press release early last year saying Winnick & Co. had invested in T+Ink, a New York developer and designer of patented "thinking ink" products used to digitize all forms of publishing. Winnick, the release said, would step in as chief executive, and he brought in Kent Kresa, former chief executive of Northrop Grumman Corp., to serve on the board.
Since then, his firm has made direct investments in Santa Monica startups MD Insider and Pluto.TV. And in an effort to take a stake in many early stage L.A. companies, he recently invested money with Venice venture capital firm Crosscut Ventures.
Those activities, according to Winnick, are just the beginning.
Early years
Winnick was the master of high-risk, high-reward financing for the first two chapters of his career.
For reprint and licensing requests for this article, CLICK HERE.
Prev Next