TECHNOLOGY: LOCAL BUSINESS LEADERS DISCUSS PASADENA'S GROWING PULL WITH SECTOR'S STARTUPS AND CITY'S ADVANTAGES AS STEADY ALTERNATIVE TO SILICON BEACH.
Making the Connection
Monday, February 16, 2015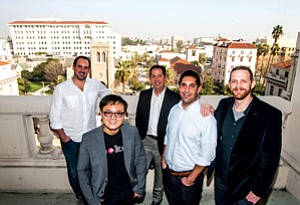 Pasadena's tech community has long found itself in the shadow of Silicon Beach. From upstart Snapchat to giants Google, Yahoo and Microsoft, most of the attention-getters in the region's growing tech sector are clustered on L.A.'s Westside. Meanwhile, as the sun shines on the beachside tech scene, Pasadena has quietly emerged as a hub for tech firms developing business-to-business (B2B) products and services. Why isn't more attention being paid to the market, which saw more than $100 million in VC investment last year? Let's face it, Pasadena just isn't as sexy. The city is hoping to change that, though, with grassroots movements such as Innovate Pasadena that are working to raise the profile of the thriving tech community at the north end of the 110 freeway. Eight Pasadena tech leaders sat down with the Business Journal last month to make their case for why startups and talent should take that city more seriously. The round table included Eric Duyshart, economic development manager at the Pasadena City Manager's Office; Isaac Garcia, chief executive of Central Desktop; Grant Hosford, chief executive of CodeSpark; Alex Maleki, vice president of business development at Idealab; Brian Nolan, chief executive of SellBrite; Steve Schell, chief executive of New Matter; Harrison Tang, chief executive of Spokeo; and Andy Wilson, chief executive of Rexter and co-founder of Innovate Pasadena.
The most visible players in L.A.'s tech scene are coming out of Santa Monica and Venice. A little bit of Culver City, a little bit of downtown Los Angeles. How would you describe Pasadena's tech scene?
Wilson: When you look at Pasadena's companies – and we have a good representation at the table here – they tend to not be consumer media app companies. They're more B2B, data analytics, education tech and financial tech. We also have a different demographic because startups in Santa Monica tend to be quite a bit younger. When you get to a mobile app, you don't need to understand domain knowledge or commerce or fulfillment systems. Tinder or Snapchat, those are clever apps but don't require deep domain knowledge.
How else would you compare Pasadena with Santa Monica and Venice, or the Westside in general?
Hosford: Silicon Beach is cool, but it has significant drawbacks. I saw it firsthand. I was an executive at eHarmony for almost six years, and we moved from Pasadena to Santa Monica a bit under the myth that it was going to be easier to recruit once we got there. Well, guess what happened. First of all, we lost a bunch of great people who lived out here and didn't want to make the commute. Second, we found some people we wouldn't have been able to connect with before, but they were, in some cases, much more expensive and frankly more mercenary because they could just as easily work for eHarmony as they could for Google or Snapchat or five other companies doing the same stuff.
Prev Next