Co-Working Finds Space in Tech Scene
REAL ESTATE: Flexibility, price points prove good fit for startups.
Sunday, August 23, 2015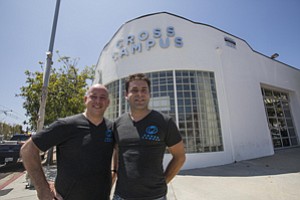 Co-working businesses take on the responsibility of handling more mundane administrative tasks for their subtenants, commonly called members: brewing coffee, supplying snacks, maintaining Internet connections and keeping the printer stuffed with paper. They also allow users to lease a desk, rather than committing to hundreds of square feet of office space for years on end.
Still, argued Dan Dato, Cross Campus' co-founder and chief operating officer, running the business is "a hell of lot more than (providing) an office and a desk. The hardest part of the business is the event programming, the hospitality."
Co-working spaces market both their perks and sense of community.
Cross Campus' new downtown location, for example, will come with a full-service artisanal coffee bar, rejuvenation rooms and member discounts with a masseuse who visits regularly. WeWork locations boast free beer, fruit water and video-game arcades. (Full disclosure: The Business Journal rents a desk at WeWork's Santa Monica location.)
Perks and community aside, the primary appeal is flexibility. And not surprisingly, the expansion of the co-working phenomenon in Los Angeles has tracked the growth of the tech industry, which craves flexibility.
L.A. startup Soothe, developer of an app to order in-home massages, spent its first few unpredictable months at WeWork's Hollywood facility.
"For a corporate headquarters, it's not a scalable option because the price per square footage is incredibly high," said co-founder and Chief Executive Merlin Kauffman, who started the company with $400,000 of his own money. "But if you need to put one person in an office very quickly, it's a great solution."
The cost, indeed, can be high. One two-person office in Santa Monica is about 80 square feet and costs $1,475 a month with a one-year agreement. That figures out to more than $18.40 a square foot a month, more than three times higher than the $5.02 average for Class A space in Santa Monica last quarter. Co-working landlords point out they also supply the office equipment, utilities, Internet connection, coffee and access to larger conference rooms, taking some of the sting out of the high price.
Co-working spaces have also been able to proliferate because of changing expectations of work spaces: So-called creative office layouts allow operators to pack in tenants more densely.
"Five to 10 years ago, it was 250 square feet per person," said Olshansky. "With today's creative office environment, people are working much closer together, 50 to 75 square feet per person."