Co-Working Finds Space in Tech Scene
REAL ESTATE: Flexibility, price points prove good fit for startups.
Sunday, August 23, 2015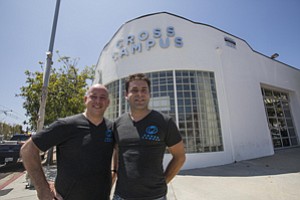 Chad Vanags' startup is growing, but he won't be moving into a formal office any time soon.
Bootstrapped since its inception in April 2014, his four-employee email marketing service Ecommerce Influence is housed in a communal office, commonly called co-working space.
"The word 'lease' just gives me the heebie-jeebies. I don't want to be locked to anything," said Vanags, whose shared office in Venice is owned by NextSpace Inc. "We really never thought at looking at an office space. We knew the flexibility and what a co-working space offered. Everything was set up and ready; just plop yourself down and go."
Vanags is among a growing number of entrepreneurs, freelancers and remote workers who have been drawn to the hundreds of thousands of square feet of co-working spaces that have opened recently in Los Angeles. These spaces, operated by both upstart firms and those backed by many millions in venture capital, have cropped up most notably in Santa Monica, Venice, Playa Vista, Culver City, Hollywood, Pasadena and downtown Los Angeles – the region's tech hot spots.
No hard numbers on the total amount of space taken by these businesses are available, but it is clear they are taking large chunks of office space off the market.
Consider:
After opening in 16,000 square feet of co-working space in Santa Monica in 2012, Cross Campus opened an 18,000-square-foot space in Pasadena in February and is expected to open a 33,000-square-foot space downtown in January.
New York's WeWork, valued at $10 billion by its venture capitalist investors, has two spaces in Los Angeles and has signed leases for three more, including an estimated 90,000 square feet in the Gas Co. Tower downtown.
High-end co-working business NeueHouse of New York has committed to take 93,000 square feet at Kilroy Corp.'s Columbia Square project in Hollywood.
In all, there are more than 50 co-working facilities in Los Angeles, according to website Represent.LA, and more are on the way.
"Penetration into what we think of the addressable market is really low, by our
estimate (just) 1 to 2 percent," said Ronen Olshansky, Cross Campus' co-founder
and chief executive. "I think the scale of demand is going to surprise people in the next few years."
Perks
The co-working business model at its core is simple: The site operator signs a long-term commercial lease, throws out some chairs, tables and Wi-Fi and then sublets space to entrepreneurs, freelancers and remote office workers.
For reprint and licensing requests for this article, CLICK HERE.
Prev Next