Radio Turns Ear to On Demand
MEDIA: Podcast One dials up dollars with rise in ads, audience.
Sunday, August 16, 2015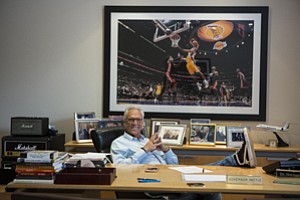 "When they first appeared eight or nine years ago, they were difficult to consume," he said. "Now it's so much easier, especially with Bluetooth in cars. I get in my car, switch on and start listening. It's easier to find a podcast than a radio show these days."
As their audience has grown, podcasts have become a more attractive proposition for advertisers, said Arthur Chan, executive vice president of digital marketing at Santa Monica's Palisades Media Group.
Part of the appeal for advertisers, he said, is the intimacy podcasts provide.
"Listeners most often listen to podcasts alone – with earbuds, commuting or at work," he said. "Combined with the limited spots for advertising, this creates a more premium experience."
Adding to advertiser appeal is that podcast consumers have higher-than-average incomes and are17 percent more likely than the average person to show loyalty to certain brands by repeatedly buying the same branded products, according to the Edison-Triton study.
Podcast One has more than 60 major brand advertisers – including American Express, Mazda and Geico – a figure that has doubled over the past year. Growth like that attracted investment queries from Hubbard and several other old-media firms, Pattiz said.
Radio roots
Decades before founding Podcast One, Pattiz made his name in the broadcasting business by founding and building Westwood One, which started out in Westwood in 1976 and grew into the country's biggest radio network. The company went public in 1984 and once commanded a market cap of $4 billion.
Pattiz said he made $300 million selling off Westwood One shares over the years. In 2010, he left the company, which has since passed among several owners, including Beverly Hills private equity firm Gores Group. Westwood One is now part of Atlanta radio empire Cumulus Media.
Pattiz, 72, saw potential in the podcast space and personally bankrolled Podcast One to the tune of several million dollars. He said the company became profitable this year after significant growth.
Having grossed $2.5 million in its first year, the company did $12.5 million last year and "this year there's a very good chance we'll no longer be a teenager," Pattiz said.
Podcast One's growth and profitability is what prompted interest from investors, he said. But he still wanted control of the company and was only willing to part with a minority stake.
"Our company was big enough to consider taking in a minority investor in a strategic move which would show confidence on behalf of the financial community in our industry, create market value for the company and still give us operating control," he said. "Hubbard proved a great fit as it's an iconic company which has been around forever that has digital and TV assets as well as radio and a desire to stay on the cutting edge of media development."