Spillover Feared in Fracking Ban
ENERGY: Industry sees city of L.A. proposal closing other wells.
Monday, March 31, 2014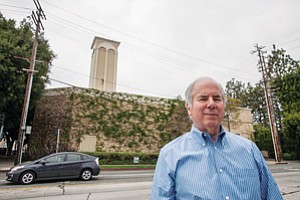 Exaggerated impact?
In written responses to questions from the Business Journal, the motion's two authors, Councilmen Mike Bonin and Paul Koretz, said the oil industry is exaggerating the impact of this ordinance in an attempt to quash it. They said the motion is specifically aimed at fracking and other "unconventional" drilling techniques.
"The oil and gas industry has sought to obfuscate, mislead and scare people as a bizarre strategy for opposing a very simple and straight-forward safety measure," Bonin and Koretz said in their joint written response.
The measure ordering City Attorney Mike Feuer to draft an ordinance passed the council Feb. 28 with little debate. A public hearing and final vote are expected in the next few months.
Oil companies are taking issue with two aspects of the proposed ordinance: The inclusion of both "waste disposal injection wells" and "acidizing" techniques in the moratorium and the stipulation that these activities are banned until the city is assured that they pose no threat to water supplies or people, and no risk of ground shifting or causing earthquakes.
Waste disposal injection wells pump water back into the ground after it has come out with the oil and separated. It's a technique used at most wells – even when there is no fracking – in part to keep the ground from subsiding. If the practice is halted in Los Angeles, even temporarily, companies would have to truck the water to other well sites that connect to local sewer systems because it's illegal for oil well operators to discharge water into the city sewer system.
Local oil company executives say that's not feasible, either in practical or financial terms. They say their only real option is to shut down the wells.
"No question, if this is the way the ordinance is ultimately written, we will have to shut down some of our wells," said Jeff Cooper, vice president and co-owner of Cooper & Brain, a small oil company in Wilmington.
Most of Cooper & Brain's 23 wells in Los Angeles happen to be hooked up to the county sewer system. Still, Cooper said six or seven of its wells do not have such access and would have to be closed.
"That still would be a huge hit for us," he said. "We've put a lot of investment into those wells and shutting them down would mean we would lose that investment."
Acid injections