Home Prices Cross Threshold
Friday, June 20, 2014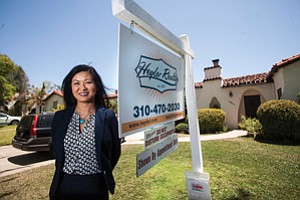 The return of the bubble?
Thanks to the economic recovery, the Westside tech boom, the end of the foreclosure wave and the return of cash-rich investors, L.A. has hit a milestone: The median home price has topped $500,000 for the first time in seven years.
For the month of May, Los Angeles County's median home price hit $510,000, the highest since December 2007. That's a remarkable recovery from January 2012, when the median was $305,000, and marks an increase of 66 percent in less than 30 months.
So does this mean that L.A.'s housing market is re-entering another bubble?
Local real estate brokers and economists who track the housing market say no. Or at least not today.
"Bubble? Definitely not yet," said Chris Thornberg, principal economist with L.A. firm Beacon Economics, who accurately called the real estate bubble nearly a decade ago.
Thornberg and others say the market has actually returned to more normal pricing patterns. In fact, they note that after a sharp but brief run-up last year, with prices shooting up more than 20 percent in some areas, the market is actually slowing down, with houses remaining on the market a little longer and bidding wars happening less frequently. So it looks like a healthy tapering.
"We are not seeing the multidigit increases in pricing we saw last year," said Robert Foster, L.A. region president for Coldwell Banker Real Estate of Madison, N.J. "We appear to be settling into a more normalized and sustainable rate of appreciation."
So what drove prices above the $500,000 milestone?
A combination of factors, chief among them the limited supply of housing in the county. After the market tanked, homebuilders abandoned new housing projects. And with prices at depressed levels, few owners of existing homes chose to sell – unless they were underwater on their mortgages and had to sell.
In fact, Thornberg said, it was those forced sales and a huge overhang of foreclosures that drove the median price down to around $300,000, first in April 2009 and then in January 2012.
What's more, traditional buyers were scarce because mortgage credit was tight. The only buyers were investors using cash to snap up foreclosed and distressed properties at fire-sale prices.
Read the full story in the June 23 weekly edition of the Business Journal.