Digital Content Turning on TV
Internet: Streaming sites test ad-supported programming.
Monday, July 28, 2014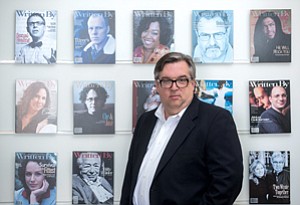 "Community" creator Dan Harmon received a tweet from a viewer in 2010, criticizing the comedy series and taunting him that "Modern Family" and "Glee" were "streets ahead" of his show. Harmon responded by mocking the phrase on Twitter and incorporated it into an episode in which the character played by Chevy Chase tried to popularize it.
Few shows may be as plugged in to the Internet Zeitgeist as "Community," which was picked up by Yahoo Inc. in June after NBC declined to renew it for a sixth season. That sort of digital savvy doesn't guarantee a bright future for the show online, but it could work in its favor.
It wasn't that long ago that the idea of high-quality programming on the Internet seemed like a fantasy. That ground shifted, however, when Netflix Inc. produced political thriller "House of Cards" in 2011. Three years on, the critical and commercial success enjoyed by the Kevin Spacey-anchored series, along with slates of original programming delivered exclusively online through other sites, has creators and advertisers ready to see whether scripted content can exist in an ad-supported environment on the Web.
Yahoo's purchase of "Community" will be the most high-profile test of that question, but a number of local online networks are dipping their toes in the waters as well.
West Hollywood's Machinima, a YouTube multichannel network focused on the young male audience, last week premiered "Chop Shop," its first scripted series produced under a year-old pact with Paramount's Insurge Pictures. And Fullscreen Inc., a Culver City multichannel network, recently announced plans to invest $10 million in original programming as part of an effort to "bridge into the world of traditional television," according to Chief Executive George Strompolos.
The lure is plain: While the $2.8 billion annual digital video ad market still pales in comparison with the $70 billion spent each year on television advertising, it is expected to grow at a compound annual rate of 20 percent through 2016.
Lingering doubts
Despite that promise, scripted programming on free, ad-supported sites has thus far not been as successful as monthly subscription streaming services operated by Netflix, Hulu and Amazon.com Inc., which don't need to rely as heavily on high ratings in order to produce profits. Netflix revealed last week that it has surpassed 50 million subscribers, who pay either $8 or $9 a month for the service depending on when they signed up.
Culver City's Maker Studios has already unveiled Maker.tv, a subscription site for premium content positioned to compete with YouTube, and Fullscreen is reportedly developing something similar.
Prev Next