Filling Up
INTERNET: Chewse sees opening in online food-ordering sector for service focused on businesses.
Monday, July 7, 2014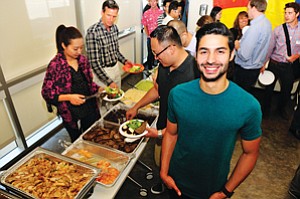 Chewse, a Venice food-ordering service for businesses, is officially expanding operations beyond its Silicon Beach home base to Mid-City, Hollywood, downtown Los Angeles and Pasadena.
More than an ad hoc marketplace for takeout orders, client companies use the Chewse website to coordinate ordering in lunch for large groups, either on a regular basis or for special occasions. The restaurants handle all food preparation and delivery.
"I let them know what my budget is and when I need it here and they get it here," said Peter Escartin, the office administrator at Pasadena ad tech firm OpenX. "I can just shoot one email and they can plan out the whole month."
Chewse has been serving the firm for about eight months as part of its prelaunch test of the market, facilitating lunch orders for OpenX's 240 employees three times a week.
While there are a number of other food ordering and delivery services in Los Angeles such as Seamless, GrubHub and Eat24, co-founder and Chief Executive Tracy Lawrence said that by focusing on serving businesses rather than going direct to consumers, Chewse has carved out its own niche.
"We're the only solution in Los Angeles that does this," she said.
Building her client base through direct outreach to businesses and communicating with local restaurant associations and chambers of commerce to get the word out, Lawrence said her approach was easily replicated in other cities. After the regional expansion to Mid-City, Hollywood, downtown and Pasadena, she plans to take Chewse wider.
It's a model that has few barriers to entry, and Lawrence said she's guarding against intrusion from giant tech firms such as Google Inc. or Amazon.com Inc. that are entering the same-day delivery market by ensuring her partner restaurants meet consistent preparation and delivery quality standards.
Born in dorm
Lawrence launched Chewse from her dorm room at USC, where she was studying entrepreneurship at the Marshall School of Business, in 2011. Its earliest iteration, coordinating food delivery for school functions and private event planners, worked well enough that she was voted student entrepreneur of the year.
A longtime foodie, Lawrence had previously founded Dish Dash, a mobile platform for students to find restaurant deals, worked for dineLA as a student and also helped plan food service for business school events on campus.
"The catering took me two hours to do," Lawrence recalled. "It was expensive and hard to find. I thought there needs to be a better solution for this."
Prev Next