Re-Digging Westwood
REAL ESTATE QUARTERLY: Developers' ground-up and renovation projects aim to draw crowds back to village.
Monday, January 27, 2014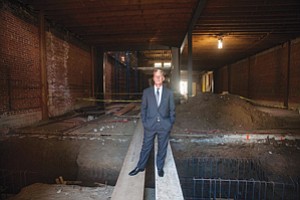 "After Mann moved out, we found an independent operator to run the theater," said the younger Simms. "But with the change in the theater business, his gross revenue was probably only $1,000 a week. It just made no sense to keep it open."
After winning a fight with community members who wanted to designate the single-screen theater a historic landmark, Josh Simms tore down the asbestos-ridden structure in 2007 to make way for a mixed-use project. The 80,000-square-foot development at 10925 Lindbrook finally broke ground in September and is expected to be completed in November. Designed by West L.A. architecture firm Nadel Inc., the four-story project will have 34 high-end apartments over 5,250-square-feet of ground-floor retail.
Three blocks east of the Simms project is another development expected to complete construction this year. Plaza La Reina, an extended-stay hotel by Westwood developer Kambiz Hekmat, began construction at 10844 Lindbrook last year. Hekmat, whose firm Indivest manages his 23-story Center West building at 10877 Wilshire Blvd. as well as the 17-story Murdock Plaza building at 10900 Wilshire, said he expected to open the 44-room hotel by this fall. Upon completion, the five-story hotel will have about 7,500 square feet of ground-floor retail and a center courtyard.
The hotel is not the only development Hekmat has planned for the village. In 2010, he submitted plans to the city's Planning Department to build a 29-story tower on a triangular lot at the northwest corner of Wilshire and Gayley. Having completed the entitlement process, Hekmat is working to finalize design plans for the 314,000-square-foot tower.
Hekmat has had his battles with the Westwood community in the past, and, perhaps reflecting the more cooperative nature that might be feeding this nascent revival, he solicited design advice from Westwood leaders and homeowners. With that in hand, he hired famed architect Robert A.M. Stern to mimic the style of New York's iconic Flatiron building. Hekmat plans to begin work to construct the tower, which will house either 144 condos or 250 hotel rooms, sometime next year.
Rounding out ground-up development plans under way in Westwood are two mixed-use projects proposed by developer Barry Beitler. The projects, which are still in early approval stages with the Planning Department, sit about a block apart from each other at the southern border of the UCLA campus on Le Conte Avenue. If all goes as outlined, the developments will each consist of three stories of medical offices above ground-floor retail.