Re-Digging Westwood
REAL ESTATE QUARTERLY: Developers' ground-up and renovation projects aim to draw crowds back to village.
Monday, January 27, 2014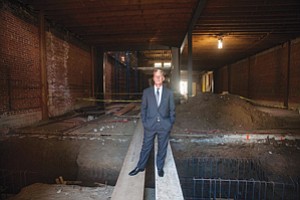 David Friedman, a Westwood business owner whose family-run jewelry shop, Sarah Leonard Fine Jewelers, has been a standby in the village since 1946, sits on the board for the Westwood Village Improvement Association. He said he has seen local attitudes relax over the last few years as it became apparent that the village needed to change to regain its appeal.
"There was a time when some of the organizations in Westwood were against any growth in the village; they didn't want anything that would bring more parking or traffic issues," he said. "But now that's been replaced by saying, 'Let's do what's best for the village.' It's been in the doldrums but we're in for a big resurgence in the very near future."
Family vision
Westwood Village was built in the late 1920s and early 1930s by the Janss family, whose now-defunct real estate firm Janss Investment Co. at one point owned hundreds of acres on the west side of Los Angeles. The shopping district, built up around the firm's domed headquarters, was meant to serve the increasingly wealthy local community as well as the student population at the recently founded University of California campus.
The village thrived for decades, gaining momentum in the 1970s as a place where moviegoers could see premieres at one of more than a dozen single-screen theaters. In the late 1980s, however, the area took a turn.
The popular explanation for the area's decline, though locals dismiss it as being overly simplistic, is that crime – and one fatal shooting in particular – scared everyone away. In 1988, a gang shootout in the village left a 27-year-old female bystander dead.
But however much the shooting sullied the area's reputation, community members said other important factors were also at play.
The rising popularity of multiplex theaters, for example, particularly those in nearby Century City and Santa Monica, undercut one of the area's biggest businesses. Local retailers faced competition from the shopping centers that housed those multiplexes, and UCLA's decision to open retail space for bookstores and restaurants on its campus further undercut business. On top of all that came the recession of the early 1990s.
Retailers came and went in the two decades that followed, as independent shops and national chains alike found it hard to stick around for more than a couple of years. Simms, whose Beverly Hills real estate firm H5 Capital is developing one of the five ground-up developments planned for the village, said he saw up close how difficult it was to make a retail business work during that time. He and his father, Ron Simms, who operates Simms Commercial Development, also in Beverly Hills, own the property at the northeast corner of Lindbrook Drive and Gayley Avenue where the old Mann National movie theater once stood.