SOARING STOCK MINTS FIRST LEGAL POT BILLIONAIRE
High Times
Monday, January 13, 2014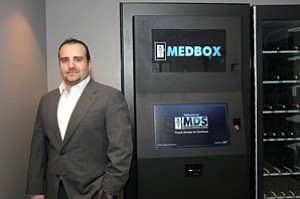 On Tuesday, Jan. 7, at 7:02 a.m., the price of a share of obscure West Hollywood company Medbox Inc. hit $52.50. At that moment, Los Angeles County gained a new billionaire – for a while, anyway.
For the rest of that day and most of the next, Medbox founder Pejman Vincent Mehdizadeh's huge stake in the tiny company, which makes marijuana dispensing machines, was worth upwards of $1 billion.
Four years ago, he was bankrupt. Now, the 35-year-old son of Iranian emigrants is the first person in the United States – maybe anywhere – to legally build a billion-dollar fortune in the cannabis business, if only on paper.
"I'm officially a billionaire," he wrote in an email to the Business Journal that Tuesday. "What an amazing situation I find myself in."
Amazing for a few reasons. For starters, Medbox reported net income of just $388,000 last year. And then there's Mehdizadeh himself. He has a history of business failures and several criminal convictions, and says he plans to take a less active role in Medbox because his record is a black eye for the company.
Medbox and other pot-related stocks have been on an upward ride for more than a year as more states have legalized marijuana for medicinal or even recreational use. For example, shares of Growlife Inc., a Gardena company that sells equipment for growing marijuana indoors, have typically traded for less than a nickel but closed Jan. 8 at 35 cents.
Mehdizadeh acknowledged that there's a gulf between Medbox's financials and its stock valuation, but he's also enjoying the trip and has even changed the name of his soon-to-be-released memoir to call himself a billionaire rather than a mere multimillionaire.
"If at any point in time someone possesses assets that make them a billionaire, they can refer to themselves as a billionaire," he said. "At several points, including on Tuesday, I was a billionaire."
Checkered past
Mehdizadeh founded Medbox in 2010. The company makes machines that store and dole out premeasured doses of marijuana. The machines, used in dispensaries, help prevent employee theft.
Mehdizadeh is the company's chairman, chief operating officer and largest shareholder. He holds 19.2 million shares of Medbox, or about 65 percent of the company. (That includes convertible preferred shares.) The stock is traded on the over-the-counter markets.
His memoir, now called "Self-Made: How I Became a Billionaire in the Legal Marijuana Industry Without Selling a Gram," will be released sometime in the next few months, he said, with proceeds going to charity. Mehdizadeh said the book, which will be self-published on iTunes, will detail "my trials and tribulations up to this point."
Prev Next