Ad Space
Agencies home in on Playa Vista
Monday, January 6, 2014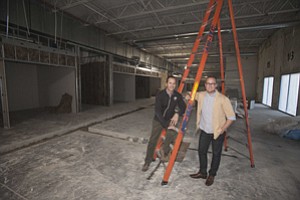 Kastner & Partners spent 10 years in Santa Monica, but Managing Director Richard Turner said with its lease ending, the agency decided to make its way to Playa Vista as they watched other agencies make the move.
"Initially, I wasn't sure about Playa Vista," he said. "It kind of felt like a wasteland before – sort of a no man's land. But as we started to look around and see this sort of migration of creativity and innovation, we decided to take a look and found a space that suited us really well."
In addition to handling the global account for Austrian energy drink Red Bull, the agency operates a side business called Kastner & Partners Garage that sells classic cars. So, it was important to have a space that could operate as an office for the ad agency as well as a showroom for cars.
The agency plans to move into a 15,000-square-foot space in the Annex, a six-acre office complex, which will also give it room to expand its staff of 45.
Dimitry Ioffe, founder and chief executive of digital marketing agency TVGla, said that the Playa Vista neighborhood was not as developed when the agency was founded in 2007, and that quickly changed after the recession.
"The area is really exploding," he said. "Playa has really started coming back."
When the agency needed a larger office to accommodate its staff of 62, it considered moving to El Segundo but found it too far and Santa Monica too expensive. Ultimately, the decision to stay in Playa Vista stemmed from the possibility of designing its two-level office space.
"The opportunity to completely build from scratch appealed to us," Ioffe said.
Travis Landrum at real estate firm Industry Partners in Santa Monica said office spaces in Playa Vista are typically converted warehouses – perfect for L.A.'s advertising industry.
"They can get a really efficient floor plan," said Landrum. "They have high ceilings so it feels more open and outdoor space. That's sort of the fundamental reasons why that market works."
Landrum's company estimates that lease rates in Santa Monica are $4.14 per square foot a month compared with $3.16 in Playa Vista for the third quarter.
Pop culture
72andSunny moved from El Segundo to Playa Vista in 2007. In May, it took a larger space in the former offices of Howard Hughes on the Hercules Campus, a 28-acre office complex.
For reprint and licensing requests for this article, CLICK HERE.