Yahoo's Search For Office Ends
REAL ESTATE: Internet giant clicks with space in Playa Vista.
Monday, December 1, 2014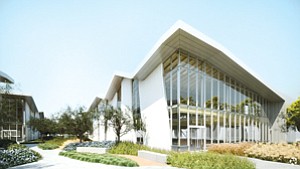 In a move that could dramatically underscore Playa Vista's emergence as a hub for media and tech companies, Yahoo Inc. appears ready to set up shop there.
The company is close to finalizing a lease for 130,000 square feet at Tishman Speyer's Collective campus, according to Westside real estate sources.
The Sunnyvale search engine and Web portal is expected to take three of the five buildings on the campus, at 11975, 11985 and 11995 W. Bluff Creek Drive. The buildings, designed by downtown L.A. architecture firm Shimoda Design Group, are under construction and should be completed in the spring. Yahoo could move in shortly thereafter.
Terms of the deal were not disclosed, and brokers for both Yahoo and Tishman Speyer declined to comment. Yahoo executives could not be reached.
Should the lease go through as planned, Yahoo will be the second giant Silicon Valley search engine company to embrace Playa Vista, a submarket with large blocks of available space that has quickly established itself as a lower-cost alternative to Santa Monica.
Google Inc. is said to be nearing a deal to buy the cavernous Spruce Goose hangar on Campus Center Drive from downtown L.A. developer Ratkovich Co., as well as a neighboring 3.3-acre site entitled for office use owned by Dallas real estate firm Lincoln Property Co.
It remains unclear exactly how the Menlo Park tech company, which already has about 100,000 square feet in Venice, would use the 319,000-square-foot space that Howard Hughes once used to build the world's largest airplane. The hangar has a pair of side-by-side bays, each stretching the length of two football fields and a ceiling more than seven stories high.
Should Yahoo and Google trade Santa Monica and Venice for Playa Vista, they would join the ranks of prominent media, entertainment and technology companies already in the vicinity, such as TMZ, 72andSunny, Microsoft Corp., Rubicon Project, EdgeCast Networks, Facebook Inc., Belkin International and Google-owned YouTube, to name just a few.
Other advertising and media companies, including Chernin Group, Fullscreen Inc., Omnicom Group Inc., WPP and GroupM, are also said to be actively looking for space in Playa Vista.
"Years ago Playa Vista was a secondary location to Santa Monica, but now it's become a more desirable location for media and tech companies because of the quality of the environment and the companies that are down there," said David Toomey, a principal at tenant brokerage firm Cresa Partners of Los Angeles Inc. who does a lot of work in Playa Vista but was not involved in the Yahoo deal. "Media and tech companies want to be close to each other and I think we've got a pretty good concentration of those companies in that submarket now."
For reprint and licensing requests for this article, CLICK HERE.
Prev Next