Truth Be Told
23-year-old spins tweeted facts into big bucks
Monday, August 18, 2014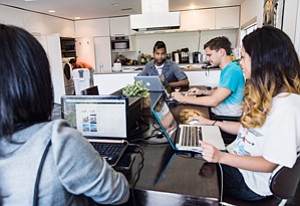 Five years ago, Brooklyn teenager Kris Sanchez, an aspiring dancer, created a personal Twitter account for the sole purpose of following his idol, Britney Spears.
Whether the pop star took note is unclear, but plenty of others have.
Sanchez has garnered more than 7 million followers for his @UberFacts account, more than Stephen Colbert, more than the National Football League – even more than the pope.
UberFacts tweets out about 80 factoids a day ("Snakes kill 100,000 people every year"), along with a handful of sponsored tweets that generate about $500,000 annually. His four-month-old app for iPhone is projected to generate $3 million in annual ad revenue. An Android version, due out in the next few weeks, is expected to double that. He's already turned down a $1 million offer to sell the business. He is 23 years old.
"It blows my mind that this is what I get to do," a polite, affable Sanchez said over breakfast near his home office in Studio City, wearing a purple T-shirt, black jeans, and flashy Versace sneakers. "I love it."
The young entrepreneur's story encapsulates the earning potential of social media, an economy that capitalizes on content possessing the elusive and highly desirable ability to go viral. If individuals can harness viral content into an audience that keeps coming back for more, then they can earn money – and in Sanchez's case, lots of it.
"Eyeballs have a number associated with them," said Justin Rezvani, founder and chief executive of Culver City's theAmplify, an agency that helps brands connect with Instagram "influencers," active users with at least 50,000 followers.
But Sanchez is not your typical influencer. He has built his clout based on content, not personal fame – an even harder feat. His tweets are viewed 90 million times a day, based on information provided to Sanchez by Twitter, and most of his posts are retweeted between 500 and 1,000 times.
No more hobby
After tweeting for a couple of years solely as a hobby, Sanchez decided to invest $1,000 to promote his account. In 2011, he reached out to noncelebrities on Twitter who had large numbers of followers and offered to pay them $50 or $100 to retweet his facts.
One of those tweets was seen by Paris Hilton. The socialite then retweeted the fact, which actually had to do with her feet, from her personal account.
"After that it blew up and started gaining 100,000 followers a week," Sanchez recalled.
Prev Next