Exhibition Firm Keeps 3-D Focus
FILM: RealD projects success for format despite waning draw.
Monday, September 30, 2013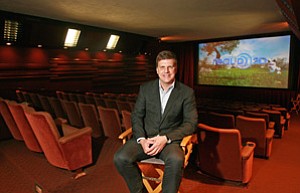 But analysts aren't convinced demand will pick up substantially in the near term.
In a note downgrading RealD stock to "hold" this month, analyst Ben Mogil at Stifel Nicolaus in Toronto wrote that it's time for RealD to slow down its installations of 3-D systems, given the high costs and recent waning demand. He estimated that the company will spend $7 million on U.S. installations this year.
"At this stage, in the domestic market, there are few weekends where 3-D screen capacity is an issue," Mogil wrote. "Similarly, the European installation pace is relatively heady considering declining trends there."
He added that RealD should enter into a joint venture for its home entertainment 3-D effort, which is still in research and development in Boulder, Colo., and other sites. RealD is expected to spend about $25 million this year on the initiative.
The company has already branched out to large-format theaters, an Imax-competitor brand called Luxe that will feature large screens, high-quality audio and either a 2-D or 3-D video presentation. The rollout is beginning in Europe but is expected to come to the United States as well.
Also, RealD Chief Executive Michael Lewis said in the company's most recent earnings call with analysts that it's working to reduce operating expenses.
Gabelli's Harriss sees one big way for RealD to lower expenses: sell itself to a larger company also in the business of providing technology to theaters. He said a sale to audio technology firm Dolby Laboratories of San Francisco would make sense.
"There is the existential question of: Does it make sense for it to be part of a larger company?" Harriss said. "The company that is always mentioned is Dolby. If they were to be acquired by Dolby, it would be the best outcome for them."
A Dolby spokesman said he could not comment on rumors or speculation.
Prev Next