Exhibition Firm Keeps 3-D Focus
FILM: RealD projects success for format despite waning draw.
Monday, September 30, 2013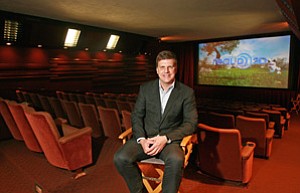 RealD's challenges are only more glaring in context, as the domestic box office generated a record $4.75 billion this summer, up about 10 percent from last year.
Hit films such as "Iron Man 3" benefited from studios spending hundreds of millions in promotion, but there wasn't much done to raise awareness for 3-D showings, said James Marsh, an analyst who follows RealD at Piper Jaffray in New York.
"The marketing message doesn't elaborate on why I should do one or the other," he said. "It leaves it up to the consumer to assess whether they're getting their extra $3 worth. That's the inherent challenge. There's no marketing message."
What's more, RealD is continuing to spend millions to install 3-D projection systems in theaters around the world.
More marketing
This isn't the first time RealD has run into a summer selloff. Last year, the company's shares lost more than one-third of their value, from $15 in July to $9 in October, before rebounding back to around $15 this June, when the pattern repeated.
RealD spokesman Rick Heineman said he sees near-term opportunities for the company, given the release of films such as "Gravity" this week and later ones for the holiday season.
RealD's confidence in "Gravity" is based partly on a concerted effort to better market the film's 3-D experience. The campaign includes a trailer with director Alfonso Cuarón discussing the creative decisions behind the added dimension and how it adds to the experience. The 3-D is supposed to make viewers feel a semblance of weightlessness as they float in space alongside stars George Clooney and Sandra Bullock.
"We wanted it to be realistic," Cuarón says in the trailer. "We pump it up here and there when we have some excitement going on. …We didn't want it to be 3-D for the sake of fake excitement."
It will be an effort to dispel the notion among some consumers that 3-D is just an add-on for studios, exhibitors and RealD to wring a few more dollars from them. Analyst Marsh said he's seen evidence of moviegoers feeling that way after a bad experience or two paying extra to see a 3-D film.
Heineman said RealD is addressing technical complaints of some 3-D moviegoers, such as screens that are too dark. He said the experience will only continue to improve as directors such as Ang Lee ("Life of Pi") continue to work in the format. Lee is working on a boxing movie that will be shot with 3-D in mind.