Scoring Points
INTERNET: Startup Scopely shoots for success in mobile game industry by letting others invent apps while it markets them.
Monday, September 23, 2013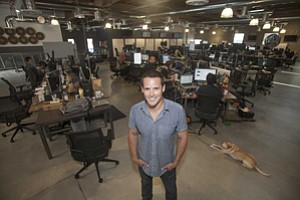 Scopely is also known for bombarding mobile developers with recruitment emails. A form letter that's been sent around entices potential hires by mentioning the company's success in building apps, the strength of its executive team and its "new '(MTV) Cribs' episode-deserving office."
If some recipients might be turned off by the promotion, it doesn't bother Scopely's executives or its backers.
"Some might say it's aggressive, but I always see it as creative," said Bill Woodward, managing director of Anthem. "And you can see that it works. They've got a great team there."
Recently, Scopely has been trumpeting the success of its Wordly game in its emails. One of those messages landed in the hands of Loren Brichter, creator of the mobile game Letterpress.
To any casual observer, Wordly is an eerily close clone of Letterpress' look and game play, and given that Letterpress came first, it raised some hackles in the mobile programming community.
Brichter, who's something of a name in that world for creating the Twitter app Tweetie, was unimpressed. Especially as Wordly went on to bigger success.
"There's a fine line between being inspired and ripping something off," Brichter said. "I don't know if I can define it, but I don't think anyone could argue that Wordly isn't a knockoff."
He said he has no plans of pursuing any legal action and aside from receiving the generic recruitment email has no direct contact with Scopely.
Whether or not Wordly ripped off Letterpress is almost beside the point to Scopely executives. Their developers tweaked the product, including more in-game purchases and a few other competitive features that made it resonate more with audiences.
The game was, in essence, a validation of Scopely's business model.
"We consider dozens of proposals and prototypes from potential partners every month and many of them utilize a game mechanic that riffs off of existing games," Driver wrote in a follow-up email. "I've never had any contact with the developer of Letterpress, but I think it's a great game."
Prev Next