Scoring Points
INTERNET: Startup Scopely shoots for success in mobile game industry by letting others invent apps while it markets them.
Monday, September 23, 2013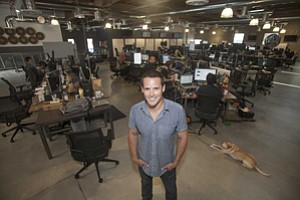 Fast-forward
Scopely was quietly founded in 2011; at launch it had 11 employees, all working from a live-work space in Hollywood.
The company has a diverse collection of co-founders: Some, like Driver, have mobile gaming backgrounds, others come from tech's further reaches.
Among the founding team is Eytan Elbaz, co-founder of Pasadena's Applied Semantics, which was acquired by Google Inc. in 2004 and remains the core of the Mountain View firm's ad tech engine.
Earlier this year, Scopely signed up Chris Ovitz, a co-founder of Venice's Viddy Inc. and son of former Hollywood super agent and Walt Disney Co. President Michael Ovitz. He's been a link to the celebrity promoters that are central to the company's marketing strategy.
The startup has raised only one round of financing – an $8.5 million round last year that was led by Santa Monica's Anthem Venture Partners. Since then, Scopely has grown to 90 employees and recently moved from its overflowing Hollywood office to a space in Culver City off National Boulevard.
Scopely's first hits came last year with its internally developed "… With Buddies" series (Dice With Buddies, Bubble Galaxy With Buddies). The games are unabashed riffs on Zynga Inc.'s "… With Friends" series.
In March, Scopely partnered with New Zealand game maker Rocket Jump to create iPhone game Mini Golf Matchup, which went on to top the App Store charts.
Antony Blackett, managing director of Rocket Jump, described the process with Scopely as "a true collaboration." The game play was largely done by Rocket Jump, but the idea for tournament play, wherein players compete for virtual currency and can double-down with a do-over mode, was from Scopely's engineers.
"When we implemented tournaments, our revenue jumped by 80 percent," Blackett wrote in an email to the Business Journal. "It was incredibly exciting to see how a new social feature could drive retention and monetization to such an extent."
Scopely's quick expansion and promotional mentality has also given the young company a bit of a reputation. In its earliest days, it offered new hires a briefcase full of cash that was wrapped in bacon. Driver said the company moved past that stunt fairly quickly ("The suitcase really began to smell") but it maintains the aggressive tactics.
When Zynga closed its L.A. branch in June, Scopely publicly offered a paid trip to one of the Seven Wonders of the World to anyone who referred a former Zynga employee.