Was Console Maker Ouya Played on Kickstarter?
TECHNOLOGY: Matching funds for gamemakers hits glitch as questions arise.
Monday, September 16, 2013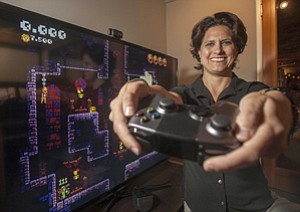 But since the console was released this June, it has been dogged by lukewarm reviews, delayed shipments and a dearth of must-have titles.
That last problem was supposed to be addressed by the "Free the Games" program, to which Ouya has allocated $1 million.
Essential money
Matt Gilgenbach, who is behind "Neverending Nightmares," was swayed to develop the horror-adventure game for Ouya precisely because of the fund. Although he plans to eventually take the game to Mac and PCs once the exclusivity period is up, getting the dollar-match from Ouya was essential.
"In looking at the budget in terms of what we needed, without 'Free the Games' there's no way we'd be able to get enough financing to make the game that we wanted," Gilgenbach said.
Still, as the stories about fraudulent or suspicious campaigns have broken, he's become aware of some of the failings of "Free the Games." A game that has a small number of investors but huge donations doesn't make a strong case that there's a substantial built-in fan base.
"In hindsight, Ouya probably should have set a minimal number of backers for a campaign," Gilgenbach said. "Backing Kickstarter projects is a good technique for creating games, but I suspect they didn't anticipate people would be misusing its fund like this."
Prev Next