TECHNOLOGY: MATCHING FUNDS FOR GAMEMAKERS HITS GLITCH AS QUESTIONS ARISE.
Was Console Maker Ouya Played on Kickstarter?
Monday, September 16, 2013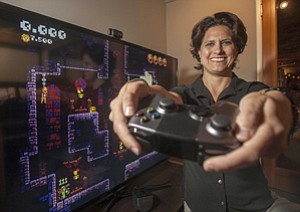 Santa Monica's Ouya Inc. yearns for games to come to its new console.
In July the company even started a program that promised matching dollars for any gamemaker that mounted a successful campaign on the crowdfunding site Kickstarter. In return for the extra money, Ouya's "Free the Games" initiative required publishers to make the titles exclusive to the console for six months after their release.
But things have not gone according to plan.
Just two of the 11 campaigns have met their funding goal, and both have been roiled in controversy.
An adventure game, "Elementary, My Dear Holmes," quickly reached its $50,000 goal in early September, but the campaign was suspended by Kickstarter days later. Though Kickstarter representatives wouldn't say why the campaign was shut down, the geek-culture blog Fanboys Anonymous, pointing to profile photos that used images of celebrity chef Cat Cora, a missing Pittsburgh woman and Dorothy from "The Wizard of Oz," suggested that some of its donors seemed a bit dubious.
Another Kickstarter fund for a football game called "Gridiron Thunder" was also flagged for suspicious activity after it raised $171,009. Some campaign watchers were alarmed that "Gridiron" took a mere 183 backers to reach its impressive six-figure total. To give that number context, "Neverending Nightmares," the next-largest campaign for an Ouya game, has received $36,000 from more than 1,400 backers.
Despite the concerns, Kickstarter found no foul play with "Gridiron" and Ouya announced through Twitter that the company would provide the promised matching funds.
Executives at the two gamemakers did not return requests for comment. But Julie Uhrman, Ouya's co-founder and chief executive, has lamented the cloud of scandal and opportunism that now hovers over the "Free the Games" fund.
"We'd like to see the doubt put aside to embrace the spirit of this fund as it is meant, and of Ouya as it is meant," Uhrman wrote in an email. "It might be surprising what a little positivity can produce."
An Ouya spokeswoman confirmed that the "Free the Games" fund will continue. And despite Uhrman's admission in a company blog post that "we misstep, and we correct," there don't appear to be any changes to Ouya's rules for the program.
Ouya itself is something of a legend in the crowdfunding space, having raised $8.6 million from Kickstarter in 2012. (It later took $15 million more from venture capital firms.)
The energy behind its funding campaign was driven largely by Ouya's reputation in the indie-gaming movement. The console runs on the open-architecture Android operating system and developers are free to create games for Ouya.
Prev Next