Deadline Nears for L.A. Patch Sites in 'Hyperlocal' Fade
Monday, September 16, 2013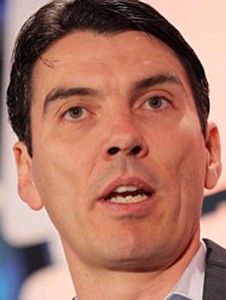 But another editor who launched and ran a popular Patch site is reportedly facing termination. A recent post from Studio City Patch columnist Susan McMartin reported that her editor, Mike Szymanski, will be cut by the company next month. A separate post on the site announced that Brentwood Patch editor Matt Sanderson is taking on additional duties in Studio City.
Szymanski's departure angered Claudia Wells, an actress who appeared in "Back to the Future." She now owns men's clothing store Armani Wells in Studio City. She said she's withdrawing advertising from the site. She also recently e-mailed Armstrong at AOL and Arianna Huffington at the Huffington Post to express her displeasure.
"If Mike's not going to be a part of it, I'm not going to be a part of it," Wells told the Business Journal.
Patch isn't the only hyperlocal news operation to face financial woes. Earlier this year, NBCUniversal shuttered Chicago's EveryBlock, a hyperlocal news network it had acquired in 2009.
Ferrier at Ohio University said she would like to see some of the Patch sites transition into a non-profit model or enter into partnerships with local universities. She said that might be more sustainable than trying to turn a profit under the scrutiny of investors.
"Hopefully the non-profit model might work for this," she said. "What I would love to be able to see is to have a bulk of sites that we can do some experimentation on."
Prev Next