Deadline Nears for L.A. Patch Sites in 'Hyperlocal' Fade
Monday, September 16, 2013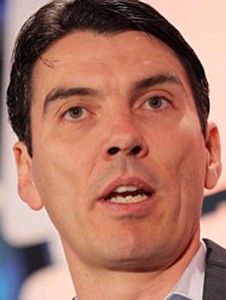 Patch employees declined to be quoted on the record for this article because AOL is offering a severance bonus of $3,500 to employees who stay on and do not talk to the press until Oct. 15, according to a Patch employee. Emailed requests for comment from Patch Media were not returned.
Bad news
Patch was founded by Tim Armstrong and partners in 2007 and then sold to AOL for about $7 million in 2009, after Armstrong had become chief executive of AOL. It bought Patch to widen its content business, which also includes Huffington Post.
Many of the Patch sites in Los Angeles were launched in 2010. They span from the San Fernando Valley to the South Bay. The ambitious rollout was welcomed by many journalists since traditional news organizations were downsizing.
The idea behind Patch was to give local communities the news and information that was often overlooked by regional outlets: for example, coverage of neighborhood council and school board meetings. The model was designed to be low-cost – a single editor equipped with a laptop would oversee the coverage of a community and serve as the face of the local site.
But part of the problem has been the costliness of newsgathering. AOL has sunk as much as $120 million a year into the venture since buying it, according to analysts, tweaking the model throughout. For example, Patch began by giving site editors about $2,500 a month to commission freelance stories, but that budget was reduced soon after. The company then began to rely more heavily on hiring full-time assistant local editors to report news.
Another challenge has been applying a national Patch model to individual communities. For example, L.A. Patch sites were mandated by New York headquarters to produce content that would appeal to mothers. Local editors were also told to establish a "moms' council" in their communities. But getting readers to meet up in person was difficult.
"That's where it got frustrating," said a former Patch regional editor in Los Angeles, who spoke on condition of anonymity out of reluctance to criticize a former employer. "In some communities in Los Angeles, where people don't know the people next door, it can be a challenging thing to set up that model."
Local fallout
Some Patch sites have nonetheless won acceptance from communities, especially sites started by known journalists in communities with high levels of civic engagement.
For example, a former Patch worker explained, Malibu Patch, was run at the outset by Jonathan Friedman, a veteran of the Malibu Times. The site was popular as a result and remained so under a new editor, Jessica Davis, who took over when Friedman moved to the East Coast last year. The former worker said the site owed its popularity to the editors and a community that cares deeply about local news.