Speaking Up
ADVERTISING: Launchpad hopes localized spots on its national podcasts will appeal to marketers.
Monday, September 9, 2013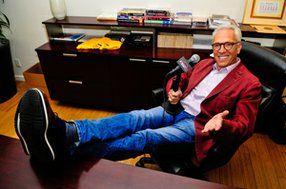 For example, an advertiser who wants a spot on a popular program such as "The Steve Austin Show" – whose first show was downloaded by 750,000 people – will be billed $35 for every 1,000 downloads, or more than $26,000. Advertisers on less popular shows are billed as low as $4 per thousand downloads, so their bill would only be a few hundred dollars.
Even though Launchpad has 200 podcasts for its listeners to choose from, it is looking to grow slowly, making sure that new hosts have a national presence. The company will be selling ads for British comedian Russell Brand, who just signed a contract to do a show for Podcast One.
Pattiz said podcasts offer more flexibility than traditional radio and build on the fan base of a host, as the shows can easily be shared and promoted on multiple platforms, devices and social media networks.
"Brand has millions of social media followers," Pattiz said. "We can use those social media followers to let them know that Russell Brand is going to do a podcast. We don't have to go out and spend a humongous amount of money, which we don't have, to buy radio spots and television spots because we're reaching more people. It really is sort of the perfect storm for promoting something that's new."
Prev Next
Page 3 of 3.