Speaking Up
ADVERTISING: Launchpad hopes localized spots on its national podcasts will appeal to marketers.
Monday, September 9, 2013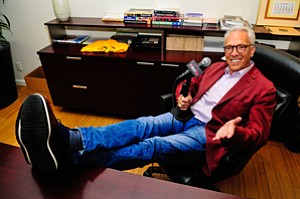 Adam Carolla took his boisterous personality from broadcast radio to podcasting with $100,000 of his own money four years ago – and it turned out to be a good investment.
He expects to hit revenue of $4 million this year, thanks to a still-new industry that specializes in selling advertisements for podcasts.
Now, the company that got its first big break with Carolla, Launchpad Digital Media in Beverly Hills, is taking the next step by selling localized ads for national podcasts.
"We're taking this out of the mom-and-pop stage," said Norm Pattiz, chief executive of Courtside Entertainment Group LLC, which owns Launchpad. "We're creating an industry with significant critical mass to be able to present it to advertisers."
Pattiz, known in the radio world as founder of radio syndication company Westwood One, started Courtside in 2010. In addition to Launchpad, whose name will be changed to Podcast One Sales next month, Courtside owns Podcast One, which serves as a platform for more than 200 podcasts that its sister company sells ads on.
Hosting 200 podcasts that have a combined download rate of 90 million a month is a selling point to advertisers, Pattiz said.
A deal it struck last month with Abacast Inc., a Vancouver, Wash., company that offers audience analytics for digital audio, will allow Launchpad to place geographically targeted ads on podcasts.
For example, if a major retailer purchases time on Carolla's show but wants to run two different commercials in two different states, it can do that with technology from Abacast.
"It gives us parity with traditional media in the sense that we can provide the same kind of services," Pattiz said.
Listeners can download digital radio shows, or podcasts, to their computer, smartphone or tablet and – unlike broadcast radio – they can be stopped, paused or replayed at leisure.
However, Mary Beth Garber, executive vice president of radio analysis and insights at Katz Radio Group on the Miracle Mile, said radio offers advantages to advertisers that podcasts don't, such as last-minute changes to copy and live announcements.
"The reason people are going to traditional radio is for the 'now' and not the 'three weeks from now,' " Garber said. "What podcasts do offer is the ability for people to go and listen to the three weeks from now."
Garber sees digital audio as a niche compared to traditional radio, but said advertisers shouldn't ignore podcasts.
For reprint and licensing requests for this article, CLICK HERE.
Prev Next