Short Sales
Collab sees money in six-second videos
Monday, September 2, 2013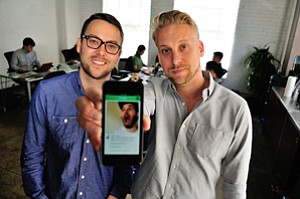 It's true that the videos on Vine are short, but when it comes to shilling goods, that could have its benefits. After all, a Vine consumer doesn't know if a video she's about to view is an outrageous joke or an ordinary ad.
"On YouTube it takes five seconds for you to get to the point where you can skip an ad," Tyler McFadden said. "On Vine, if you watch six seconds and you didn't like it, you can scroll to the next video. But no matter what, you're watching the whole ad."
Creative freedom
Tyler and James McFadden have been part of the YouTube space for some time. Their first outfit, a YouTube channel named GoPotatoTV, dates to 2006, practically the Pleistocene era of online video.
They took notice of Vine not long after the app launched; when the stars began to emerge, the brothers set about turning Collab into a manager of Vine talent. The advertisers soon followed.
Collab scored a deal this month to produce a campaign for Line, a communications app that's more-or-less the Skype of Asia. The company will be attaching a few of its Vine stars to make the spot, including James, who has also done videos promoting Warner's bras. Vine star Furlan has previously created videos for Benefit Cosmetics makeup.
So far, paid-for Vines feature the format's irreverent and aggressive style and seem tangential to the products they are pitching.
Furlan's spot for Benefit has the star flipping her hair back while the camera pans out to reveal her eyes, which are heavily made up in smoky eye shadow.
"This is Angel," she coos. "He's a model." The camera pulls back further to reveal Angel, who's recoiling from her advances.
The video loops infinitely, as with all Vines. And that's the spot. Such commercials, by the way, run for free on Vine.
Furlan said the company gave her complete creative freedom; all she needed to include was the product name in the video's title and a searchable keyword in the video's description.
As other companies have begun dipping their toes into Vine campaigns, not all have been so hands-off.
"I've been approached by some and it hasn't worked out because the companies are too picky and want creative control," Furlan said. "I've literally turned down thousands of dollars in brand deals because of that. But in the end, it's not even going to serve their purpose."