COLLAB SEES MONEY IN SIX-SECOND VIDEOS
Short Sales
Monday, September 2, 2013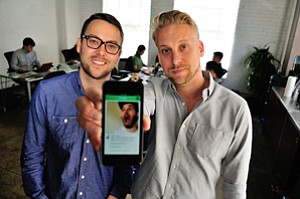 Tyler and James McFadden are trying to launch careers at six seconds a pop.
That's the maximum run time allowed by Vine, the popular video shooting and sharing app owned by San Francisco's Twitter Inc.
Six seconds is just long enough for a comedy video and, as the McFadden brothers are out to prove, plenty of time to pitch a product.
In the last few months, the two have signed a murderers' row of Vine talent to their downtown L.A. online video firm, Collab. The firm acts as a kind of talent agency, brokering deals between brands and online performers so they can make a living from their short videos.
Among the people Collab has scooped up are improv actors Curtis LePore, Brittany Furlan and K.C. James. The names might be unfamiliar to most, but with each carrying more than 2 million followers on Vine, they command a tremendous audience.
The McFaddens believe their current roster of 25 Vine creators is the next wave of online talent – prolific video makers who have millions of followers and, perhaps, as they say in advertising circles, "influence."
Bringing together online video talent to take advantage of their combined audience is old hat in Los Angeles. It's a business model tried by the well-funded companies of the YouTube world, such as Culver City's Maker Studios, FullScreen and other so-called "multichannel networks." But none of those has applied it on a scale this small and to a platform this new.
Vine, released this January, lets people shoot short videos through a smartphone and post it on their social media feeds. Other followers can then "like" a Vine, comment on it and share (or "re-Vine") it. Last month, the company announced that its app has reached 40 million users.
As Furlan, James and other Vine creators crank out clips through the app, Collab executives said offers from brands are rolling in. Soon enough, they promise, so will the money.
"A lot of the creators that we're working with are doing it full time. And if they're not right now they will be within a matter of months," James said. "They're probably going to make six figures in the first year of being on Vine."
It's a bold prediction, especially given the profit troubles many YouTube networks have had. But in a way, Vine might actually beat YouTube as platform for promoting brands.
Much like retweeting in Twitter, the system of re-Vining is built for viral spread. YouTube, on the other hand, largely relies on other social networks to reach an audience.
Prev Next