Magazine Founder Says Doing Good Still Works
PUBLISHING: Goldhirsh stays positive after firing editorial staff.
Monday, October 21, 2013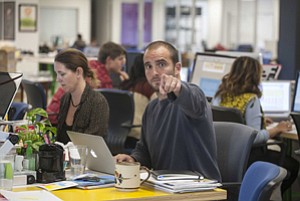 Right decision
Long after the firings, Goldhirsh, speaking from Good's headquarters on the 15th floor of a Miracle Mile high-rise with broad views of the Hollywood Hills, lamented that the change in course had been rocky. The company is now seven years old, yet its workspace looks like so many other new-era startups, with 45 young employees typing on laptops in the middle of an open space.
Goldhirsh was seated in a Good conference room in his typical outfit: a worn thermal shirt, low-slung jeans and sneakers. Now 33 and a family man, he's also visibly older than the days when newspaper profiles marveled at the newly rich idealist. He wears the same loose scruffiness, but accessorized with a hairline that has retreated a little.
Still, he speaks with the energy that attracted people to Good in the first place.
Looking back at the saga of his earnest empire of do-gooders over the last year, Goldhirsh regrets the way his editorial staff was fired; it came the day after the magazine celebrated the release of an issue.
"Not only do I wish that day happened differently, I wish the six months leading up to it happened differently," he said. "But I believe we made the right decision to move in this direction."
Good still produces its quarterly magazine. Goldhirsh slid the fall 2013 issue across the table to share its cover story that looks at ways simple tweaks to things (toilets, standardized tests, the Middle East) can solve bigger problems. But it is no longer the core of the mission.
On its website, original editorial content is now spread across many verticals, alongside user-generated posts about "Food" and "Global Development."
It's a shift that challenges not only the structure of a journalistic endeavor, but an argument for what Goldhirsh points to as the elemental level of how to make a difference. Namely, that journalism isn't enough.
"I think a really good article about someone doing something interesting is super important," he said. "But I know in my heart of hearts we need to facilitate people helping each other."
Ann Friedman, executive editor of Good's doomed 2012 crew, described the business as having noble goals, "with execution that is uniquely poor."
"What is Good, is something ownership never found a good answer to," Friedman explained.
Origin story
Goldhirsh was bred to be a magazine publisher. His father, Bernard, had started a pair of business periodicals, including Inc. Magazine, which he sold for a reported $200 million.