App May Have Users' Numbers
INTERNET: Ad Hoc's Burner links multiple lines to one phone.
Monday, October 7, 2013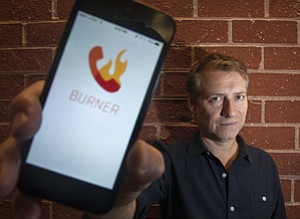 David Waxman, general manager of TenOneTen, argues that the freedom to give out disposable digits brings phone numbers up to date with this era of online social networks. There have been steps along this way before – Google Inc.'s Voice application let people set up a free number online that routes calls to all the numbers an individual might have – cell, home, work. And Skype has made popular the idea of making free or low-cost calls online.
Neither of them, though, addressed the idea of being anonymous.
"Google and Skype aren't designed to have you switching numbers in and out," Waxman said. "But being in control of your identity is such an important part of the equation."
Office hours
Cohn and his Ad Hoc co-founder, Will Carter, are treading familiar ground with the phone-as-social-network app. Cohn worked at Menlo Park's Yahoo Inc. in business development and Carter at Finland-based phone maker Nokia Corp., now in the process of being purchased by Microsoft Corp.
Their initial idea involving disposable numbers was for a makeshift call-in show, in which experts could tweet out that they were free to talk about a topic then publicly post a temporary phone number for people to dial. It was modeled after a professor's office-hours concept in which students know they can stop by for a set time to get questions answered. The goal of Burner was to connect savvy businessmen with entrepreneurs looking for advice. But it didn't work that way.
"We found that people were a lot more interested with a temporary phone number than with the office-hours concept," Cohn remembered. "Then we started to realize we might have something."
In 2012, they brought the app to South by Southwest, the Austin, Texas, tech and media festival. It was officially released for iPhones in August last year with the Android version coming a few months later.
Since its debut, Burner has consistently ranked in the top five grossing apps in the utilities genre, according to analytics site AppData.
Apple Inc. doesn't release download metrics, but the Android apps store shows Burner has been downloaded more than 50,000 times.
A source familiar with telecom and informed of Burner's reach said the company might need in excess of 100,000 separate phone numbers, which could be purchased at a bulk rate for as low as 5 cents a line.
Cohn wouldn't comment on the pricing, nor would he disclose revenue, but he did say Burner's revenue stream of charging for numbers has kept the company running for some time without needing to raise capital. The new funding will be used to expand the staff of fewer than 10 as well as redesign the Android app to match the recently modernized version for iPhones.