Tech Connects To Downtown
REAL ESTATE: City core takes some shine from Silicon Beach.
Monday, November 25, 2013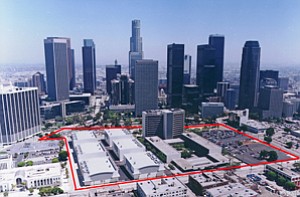 "It's easier to get in and out of downtown from different parts of Los Angeles and the space in the building itself was very attractive to them," he said. "So, too, were the economics."
The creative space these tenants are drawn to on the Westside is more expensive than creative space downtown. There are no surveys of creative space rates, but they generally reflect the Class A distinction. The average monthly asking rent for Class A Santa Monica office space in the third quarter was $4.64 a foot; in downtown, it was $3.22.
Industry Partners' Pierose said rental value is one of the biggest drivers of traffic through the building. Since Rising Realty Partners purchased the property for $60 million two years ago, rents have jumped to nearly $3 a square foot a month from about $2. Upper levels with panoramic views demand rents closer to $4 a foot.
"I've raised the rent probably six or seven times since I've been working on the building, but the rent there is still a deal compared to other parts of town," he said. "If PacMutual was in Santa Monica, it would lease for approximately $6 a square foot."
The allure of downtown has been such that it made the short list of a few firms that, though they chose to settle elsewhere, might not have even looked at the submarket a year ago.
In recent months, media and technology companies including Riot Games, SpinMedia and Fox Animation Studios have all toured property downtown. While none of them ultimately signed a lease in the area – Riot Games went to West Los Angeles, Fox Animation to Hollywood and SpinMedia opted to stay in Hollywood – their interest marks a shift in attitude toward the city's urban core.
Yet even as interest in creative office space downtown grows, readily available supply is limited.
CBRE's Penrose said that only a couple buildings – including PacMutual and 617 W. Seventh – are widely considered appropriate for companies looking for true creative office space, and space in those buildings is getting tight.
"There's a lack of supply, especially in the central business district," he said. "You can look in the Arts District or go further east for older historical buildings, but a lot of those buildings need to be retrofitted and a lot of money needs to go into them to get them ready for occupancy."
So until more creative office space comes on line in the area, Gallup said it'll continue to be a challenge to convince media and technology companies he represents to call downtown home.
"For a lot of these tenants, when they can't see the final project and see the other tenants in there, it makes it a little harder for them to imagine that the building is going to become something different," he said.
Prev Next
For reprint and licensing requests for this article, CLICK HERE.