REAL ESTATE: CITY CORE TAKES SOME SHINE FROM SILICON BEACH.
Tech Connects To Downtown
Monday, November 25, 2013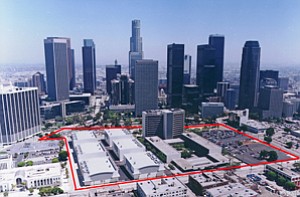 How far inland can Silicon Beach reach?
Software developer Daqri will move this week to its permanent home at LA Center Studios, a sprawling 20-acre complex just west of the 110 freeway across from downtown Los Angeles.
The company, which had been in Santa Monica, joins a handful of pioneering media and technology companies that have already settled in a downtown market more accustomed to white-shoe lawyers and staid bankers.
Other notable additions to the fledgling roster of media and tech companies in downtown's Financial District include e-commerce fashion company Nasty Gal, which moved into 50,000 square feet at the PacMutual building at 523 W. Sixth St. building in February, and Michael Bay's Institute for the Development of Enhanced Perceptual Awareness, an Emmy Award-winning media company that moved from Venice about two years ago. Startup Scoutfit, an online shopping company that launched just last week, made its home in a small office at the 12-story Spring Arts Tower at 453 S. Spring St.
"Downtown is now being perceived as a cool place to work and a cool place to live," said Chris Penrose, a leasing agent at CBRE Group Inc. who represents the 12-story Roaring Twenties building at 617 W. Seventh St.
"We're seeing some of these younger, hipper companies evaluate downtown," he said. "They don't always move here, unfortunately. But downtown is definitely on the radar now and that's a lot more than where it was just five years ago."
Carle Pierose, a partner at Santa Monica real estate services firm Industry Partners who handles leases for the PacMutual building, said he has given downtown L.A. office tours to more media, technology and entertainment companies in the last year than in any previous year.
"I've done more than 40 leases here in the last year and most of those have been with creative firms," he said of the building that was recently renovated to appeal to creative tenants. "We're getting lots and lots of architects and a fair number of furniture- and construction-related companies. But something I'm really pleased about is we're starting to see some entertainment and technology come here."
Brian Mullins, chief executive of Daqri, an augmented reality software firm, was traveling and could not be reached. But Dan Gallup, a senior vice president for tenant brokerage Cresa Los Angeles in Brentwood who represented Daqri in lease negotiations for the company's 18,000 square feet, said for it and many other tenants he takes on tours through downtown, the attraction was both geographic and economic.
Prev Next