'Magic Flute' Goes High Tech
Wednesday, November 20, 2013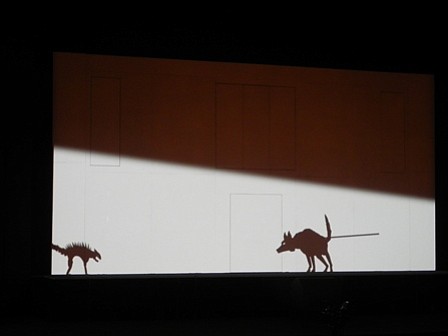 There is no set in L.A. Opera's production of Mozart's mystical love story "The Magic Flute" – only singers, a screen and a huge amount of tech.
The production will use animation projected onto the screen to evoke the style of the silent film era. The singers interact with the hand-drawn animation throughout the opera.
The multimedia rendition, which comes from British theater group 1927, first premiered in Berlin last year. It will make its U.S. debut at the Dorothy Chandler Pavilion on Nov. 23.
The 1927 group's production of "Magic Flute" is part of a growing trend of operas that use projections instead of or in addition to traditional sets, said L.A. Opera technical director Jeff Kleeman.
"Two or three operas out of eight or nine a year are likely to have some projection element," he said of L.A. Opera's calendar. "We do them more and more."
Such a production presents challenges to the singers and crew. The singers stand in front of the projection screen – which has built in platforms and revolving doors – for the length of the opera. There also isn't any lighting aside from the light from the projection. The singers' makeup and costumes had to be designed accordingly.
In addition, the video projected behind the singers contains nearly 1,000 layers. Those layers must be manually triggered by the stage manager to ensure that the animation matches the tempo of the singers and the orchestra. As a result, the productions can vary slightly from night to night.
For example, in one scene, the villain Monostatos must appear to be holding the leash of a dog projected onto the screen behind him.
One of the biggest problems with staging an opera using a virtual backdrop is the inevitable computer crash or broken projector. Kleeman said he's made sure there are backups.
"If a computer dies, you can switch over and not lose what, in this case, amounts to an entire show," he said.