Fuhu: All Grown Up
SPECIAL SECTION: Fastest Growing Private Companies
Monday, November 18, 2013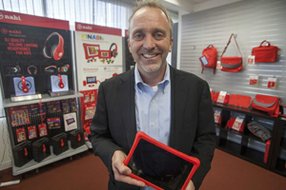 But the company has competition in the kid tablet market. In addition to the Toys R Us device, there are the Vinci tablet from Rullingnet Corp. in North Andover, Mass., and the Kurio from France's Cide Group, among others.
Not to mention tech giants Apple, Samsung, Amazon and Microsoft, which all manufacture tablets. Although those devices aren't made specifically for children, many parents use them to entertain their kids.
Apple also sells the iPad to schools as an educational tool. The Cupertino company has said there are more than 10 million iPads in schools around the country including L.A. Unified School District, whose program has generated controversy.
Rhoda Alexander, a tablet analyst for IHS iSuppli in San Francisco, said that it would be difficult for a specialized tablet manufacturer such as Fuhu to compete with the global network of an Apple or Samsung.
"They bring tremendous financial resources to the tablet and they have a sales network that is just very hard to beat," she said. "That's very hard for somebody else to match."
Mitchell said the problems with LAUSD's iPad initiative – which included students hacking into social media apps, missing devices and extra keyboard costs – indicate that Apple might not know how to make devices for kids the way Fuhu does. (Fuhu had bid on the LAUSD contract.)
"When we make the hardware, we make it with kids in mind. When we make the software, we make it with kids in mind," he said. "As long as we keep that focus on amazing experiences for kids and their families, I think we'll always have a step up."
Prev Next
Page 3 of 3.