Fuhu: All Grown Up
SPECIAL SECTION: Fastest Growing Private Companies
Monday, November 18, 2013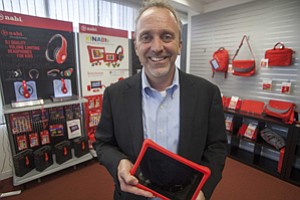 The company was founded in 2008 as an application and software developer. Among its various kid-friendly products is Fooz Kids, software that allows children to surf the Internet while blocking age-inappropriate material.
Fuhu didn't enter the hardware manufacturing business until the iPad hit big in 2010. Executives decided to replicate the tablet experience for kids.
"We spent some time thinking through what made one product so successful and what made another product that was so similar a failure," Mitchell said. "Our conclusion was that it was the ecosystem and the environment that was around the iPad."
The company began selling the Nabi tablet at Toys R Us stores in December 2011 and sold out of the devices within weeks. But that partnership quickly soured.
Fuhu is now suing Toys R Us Inc., alleging that the Wayne, N.J., retailer did not order enough of the Nabi tablets to meet demand and then stole trade secrets to create a competitive device called the Tabeo.
Fuhu now sells its devices in about 17,000 Wal-Marts, Best Buys and Targets around the country.
The company has also expanded its product line. In addition to the Nabi 2, Fuhu sells a $100 Nabi Jr. for tots and a $250 Nabi XD for tweens and teens.
Other Fuhu electronics include kid-safe headphones and a small video camera similar to a GoPro that children can attach to their scooters or bikes.
Then there are the accessories, which make up about 25 percent of Fuhu's sales. Children can customize their Nabis with colorful protective cases and small tiles, called Kinabis, that connect to the back of the device to spell out a name or create a design.
As the company has expanded its product lines, it has staffed up significantly. Today, Fuhu has about 230 employees in six offices worldwide. With about 100 employees in Los Angeles, Fuhu recently expanded from one floor to another half-floor at its Sepulveda Boulevard headquarters.
To fuel its growth, Fuhu recently raised $65 million from a cadre of investors that included DreamWorks Animation. Other investors include Nabi's Taiwanese manufacturer FoxConn, Fountain Valley chip maker Kingston Technology and Taiwanese electronics firm Acer.
Tablet competition
Up next for Fuhu is the launch of a new product at the Consumer Electronics Show in Las Vegas early next year.
The company has also started selling Nabis in China and will continue to focus on growing sales in the region. Mitchell said that Chinese sales could eclipse sales in the United States by the end of next year.