Insomniac Lights 'Fuse' Beyond PlayStation
Tuesday, May 28, 2013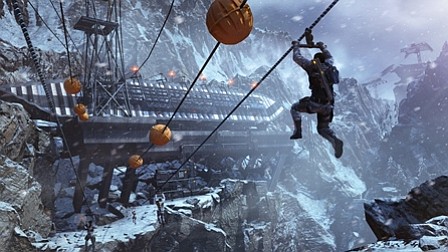 As an independent video game maker, Burbank's Insomniac Games has kept its business focused over the last 20 years.
Up until recently, the developer has made console games only for Sony's PlayStation and its various iterations.
But the video game landscape has changed, with more people playing games online, on their phones and on other consoles. So Insomniac is changing with the times and launching its first multiconsole game on Tuesday.
"Fuse" is a third-person shooter set in a desert base where the U.S. government had been studying a volatile substance called Fuse. Players are tasked with investigating the base, which has gone dark, with a team of three other agents.
People playing the game by themselves can switch between the game's four characters to take advantage of their particular skill sets. Gamers can also invite up to three friends to play.
Insomniac has released the game for PlayStation 3 and Xbox 360. It retails for $60 and is only available off the shelf.
Ted Price, Insomniac's chief executive, said the company decided to release a multiconsole game to increase its audience.
"Early on, Sony dominated the console market," he said. "During this generation, things have changed drastically in terms of the console landscape. We saw a chance to branch out in terms of the audience we were addressing by building a game for Xbox 360 fans."
Insomniac began in 1994 as a small independent game developer. Some of its most popular games have included "Spyro the Dragon" and shooter series "Resistance."
Today, the company has 220 employees at its Burbank headquarters and office in Durham, N.C.
To keep up with changing times, Insomniac has also expanded to new platforms. Last year it released role-playing game "Outernauts" for Facebook. The game, which is set in a galaxy where players must battle with creatures and capture them, is now also available on game-hosting website Kongregate.
Insomniac is in the process of developing a mobile version of "Outernauts" that will feature the same characters updated for the phones and tablets.
Price said it was important for Insomniac to branch out from its PlayStation focus.
"We saw the business changing, evolving fast," he said. "As an independent developer, it's important that we don't put all our eggs in one basket. We wanted to learn more about both the market and the technology necessary to deliver a game and make it work."