Video App Lost Facebook, Focus
INTERNET: Viddy retrenching after failing to meet Web hype.
Monday, May 20, 2013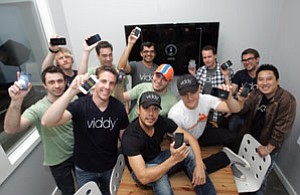 "I think it raised expectations on a relatively early stage company," O'Malley said. "That made them think about the sheer number of users rather than giving the users a great experience."
Facebook taketh away
Another entrant into the short video category, San Francisco's SocialCam, was seeing similar growth on the back of Open Graph. That app, which was even more aggressive than Viddy in posting video updates onto people's time lines, eventually rankled the social network. SocialCam's content, some of which was pirated material, looked like spam; Facebook rejiggered its algorithm to make updates from SocialCam less visible on users' time lines. But the change affected Viddy as well, slowing its once-explosive growth immediately.
"SocialCam really was spamming the Facebook time line, while Viddy was talking with Facebook at the highest levels trying to do it legitimately," said a source close to Viddy. "Facebook had a larger issue and Viddy got sucked into it."
With the app less visible in Facebook's newsfeed, activity took a dive. The number of daily active users fell to 1 million at the end of May 2012 from 5 million a month earlier, according to Appdata.com.
Then, in mid-July, SocialCam was acquired by software firm Autodesk Inc. for $60 million – a far cry from the giddy valuation that Viddy saw only months earlier.
There have been reports Viddy was itself involved in acquisition talks with Twitter Inc. and that O'Brien turned down the offer. Rapp, Viddy's current chairman, and O'Malley, the director, both confirm there were indeed conversations about a strategic partnership with Twitter that touched on the possibility of being bought. But they insist it all happened in the months leading to last May's series B round. Ultimately, there was no formal offer to be accepted or rejected.
Perhaps more damaging to Viddy was Twitter's acquisition in October of a different short-form video app, Vine. It debuted in January and has since rocketed to the top of the iPhone and Android download charts.
In short, the category Viddy helped create was dominated by a different company.
Smaller team
This February, O'Brien, who had been concurrently running a PR firm while serving as Viddy's chief executive, was replaced by Aguhob. Ovitz left and joined Hollywood mobile gaming company Scopely Inc.
The decision, said board members, came down to a shifting priority in the company as it tried to overcome its early rise and fall.