Pheed App Heads to Android
Wednesday, May 15, 2013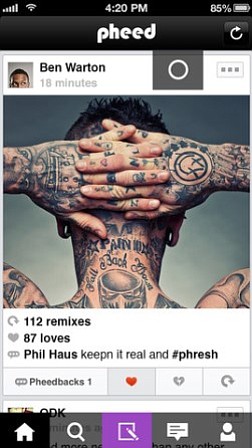 Since social networking app Pheed launched for iPhones in November, it has seen adoption first from creative communities and celebrities and more recently from brands and teens.

Now the Hollywood company is hoping to expand its user base even further by launching Pheed for Android phones. Pheed quietly made the Android version of the app available for download earlier this week.
"Coming onto Android is a must," said Pheed Chief Executive O.D. Kobo. "We're a mobile-first company so our products need to be on all devices."
Pheed is a free app that allows people to post photos, videos and songs. The creative community is especially drawn to the app because of its monetization feature, which allows people to charge a subscription fee to their stream of posts.
Kobo would not give specifics about how the Pheed app is faring, but did say that it had more than 1 million downloads in February – following a short hiatus from allowing new subscribers.
Since February, teens have increasingly joined Pheed. Kobo said that today about 42 percent of the app's users are people between the age of 17 and 22.
Last week, Pheed updated its monetization tool for the iPhone to allow for pay-per-view. Now someone can pay a one-time fee to watch a streaming broadcast from another Pheed user. Pheed plans to roll out the pay-per-view function for Android phones within the next week.
Kobo said he expects the Android launch to help expand Pheed's presence internationally, where Android phones have significant market share.
"It's a different user base," he said of Android users. "It's like guys that drink Pepsi versus Coke. I'm interested to see how we'll do in Europe now with Android. That's definitely going to enlarge our market share."