HOSPITALITY: DEVELOPERS CHECK INTO PROJECTS AMID RECOVERY.
Hoteliers Find Rooms in L.A.
Monday, May 13, 2013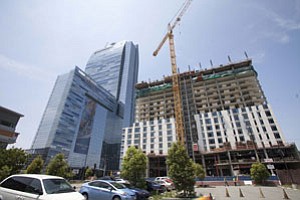 After years with few if any new hotel developments, at least eight hotels totaling 1,855 rooms are under construction across Los Angeles County.
Those rooms represent a 116 percent increase from the number of rooms under construction last year, when postrecession hotel expansion resumed. They will add about 4 percent to the inventory of nearly 50,000 midrange to upscale hotels rooms in the county.
But it doesn't stop there. At least 11 more projects totaling 1,544 rooms are planned for the coming two years, according to the Los Angeles Tourism and Convention Board. Among those getting in on the action now is Brad Wagstaff. Attracted by L.A.'s coastal climes, his Park City, Utah, company, Trancas Retail Center Fund LLC, bought a five-acre hotel development site in Redondo Beach in 2009. Then he waited.
Real estate was in the doldrums, lenders weren't lending and for nearly four years the site lay fallow.
Last month, he secured $41 million in financing from Orix Public Finance Group of Dallas and his $60 million, 319-room, two-hotel project finally broke ground.
"Financing is becoming available and that's the primary driver you are seeing," Wagstaff said. "(During the recession), L.A. saw minimal drops in occupancy levels and rates came down a little bit, but it was still a very resilient market primarily because there's a lack of supply of hotel rooms relative to the demand."
Indeed, Los Angeles is among the hottest hotel markets in the country, with average nightly rates of $130 and in some neighborhoods even higher, rivaling those in the Bay Area and New York. Nowhere is this more apparent than in downtown Los Angeles, on the Westside and in the South Bay.
For example, Michael Zislis, who owns Manhattan Beach's Shade Hotel, is building a second location of his boutique brand in Redondo Beach. Also, a Hyatt Place with 142 rooms in El Segundo and a 288-room Courtyard by Marriott in Marina del Rey are under way, while a Hampton Inn & Suites with 136 rooms is planned for Santa Monica.
Among the downtown projects, the redevelopment of the Wilshire Grand will add 900 hotel rooms. Meanwhile, dual hotel projects on Olympic Boulevard – a 218-room Residence Inn at L.A. Live and a 174-room Courtyard by Marriott at L.A. Live – are slated to open in June of next year.
The Tourism and Convention Board, which is funded by taxes generated from local hotels, said demand for rooms is rising. The county experienced a record number of tourists last year, boasting a 2.5 percent increase to 41.4 million visitors over the previous year's record high. That helped set a record for hotel occupancy here with 75.4 percent, about three-tenths of a point higher than the previous record, set in 2006.
Prev Next