INTERNET: EARNINGS RISE AS DEMAND PREPARES TO DIVIDE BUSINESS UNITS.
Fit and Set to Split
Monday, May 13, 2013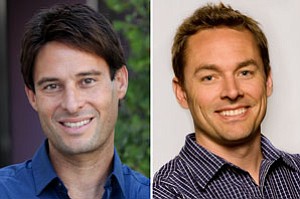 Demand Media Inc. has given the public its first look at a company in transition, and the results look promising to analysts.
The Santa Monica Web publisher and online domain registrar debuted first quarter earnings last week that beat Wall Street's projections and showed the way forward for a company that's about to split in two.
Net income for the quarter ended March 31was $700,000, or 1 cent a share, compared with a loss of $1.8 million (-2 cent) during the same period a year earlier. Total revenue during the quarter was up 17 percent to $100.6 million, beating Wall Street estimates of $99.6 million. The earnings report sent Demand shares up more than 3 percent May 8 to close at $8.85; shares were up more than 7 percent for the week.
Much of the focus on Demand has been about the decision by executives earlier this year to spin off its domain registration business, eNom, into a standalone company. The process is scheduled to be completed by the end of the year at the earliest.
During an earnings call, Demand Chief Executive Richard Rosenblatt took pains to point out that each side of the business was seeing steady growth.
"We believe that a separation will better position each of our businesses to pursue its unique strategic priorities and opportunities," Rosenblatt said.
This strategy of separating a business's publishing unit, which often has volatile growth and razor-thin margins, from the rest of the company is becoming increasingly common, said Laura Martin, an analyst at Needham & Co. in New York. She points to recent moves such as Time Warner Inc. spinning off its magazine unit as a way a company can organize its business and appeal to different types of investors.
"The goal in splitting Demand is to find an investor base that loves the registration business, which is growing consistently and has lots of free cash flow, and leave the growth side of publishing to float freely," Martin said. "Investors of growth stocks don't care about the predictability of the registration business."
The timing of the registrar business' split from Demand coincides with the moment the domain registration industry will be given a significant boost. By the end of the year, the Internet Corporation for Assigned Names and Numbers will release more than 1,000 new online addresses as "generic top level domains" or gTLDs. Rather than the traditional addresses ending in .com or .org, these will be industry specific, such as .hotel or .attorney. ENom has been amassing dozens of these, which, once they're available for use and sold on a wholesale basis, will be another source of revenue for a newly created company.
Prev Next