Bioresins Firm Looks to Mold Future in Indiana
PLASTICS: Cereplast to exit El Segundo as part of cost-cutting strategy.
Monday, May 13, 2013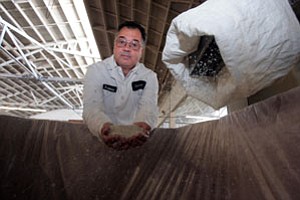 Cereplast is bagging its El Segundo headquarters.
The maker of bioresins announced last week that it was packing up the California office as part of a restructuring effort and moving to Seymour, Ind. The company already has a production facility in the state.
Cereplast also will be shuttering an office in Germany and consolidating all European operations in Italy.
The actions are among a series of moves the company has undertaken to cut costs while it struggles through financial setbacks. Earlier this year, the bioresin maker announced it was going to be furloughing employees and reducing its worldwide head count to 17 from its 2011 level of 46.
Cereplast Chief Executive Frederic Scheer lamented the move away from the region where he founded the company. But the cheaper rents in Indiana, along with other state incentives, will allow him to save five employee positions.
"I'm a true Californian. I've been living here for 30 years, so it was not something I did happily," Scheer said. "But my first responsibility is to shareholders, and when I look at the costs of having an office in L.A., when frankly we do not need that any longer, it made the decision fairly easy."
The company's resins are used by other companies as a substitute for plastic. They make biodegradable single-use bags, for example, from the product.
Cereplast's stock, which trades on the over-the-counter market, lost 98 percent of its value last year. On May 8, the day after the company announced its move, the stock was unchanged at 2 cents a share, though it remains one of the most actively traded stocks on the LABJ index.
Last year was difficult for the company, as the European debt crises took a toll on much of its international receipts. In Italy, which remains a big user of biodegradable bags, two of its local distributors failed to pay $8.6 million for clients' orders.
Still, Scheer said his company is committed to working in the country, where government regulations against plastic bags make it a good market for Cereplast's environmentally friendly alternative.
So far, 2013 has looked more propitious. The company recently announced projections of first quarter revenue of up to $1 million. That, by itself, would eclipse Cereplast's entire revenue for 2012. The company is also looking to expand to France and the Netherlands.
Scheer admitted the United States remains a tough customer, though he is determined to breaking through here with a green product.
"America remains the largest potential market," he said. "I'm hopeful it will one day wake up to the necessity of protecting the environment."