Ad Business Hopes to Stand Out by Blending In
INTERNET: Nativo styles 'native content' to match websites.
Monday, May 6, 2013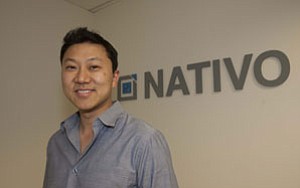 "I think that a company like Nativo with a platform that can deliver scale has an ability to win in this native ad space," said Fitzgerald, who puts Evolve's spending on native ads at less than 5 percent of its budget. "I'm just not sure how big that space will really be."
Third venture
Nativo is Choi's third tech startup, which began with his Web design firm, Cie Studios, formed more than a decade ago. He followed Cie with Cie Games, which builds games for Facebook and mobile devices and had a hit with Car Town. The game features many car brands and partnerships, and served as a primer for product integration, leading the way into his next project – native advertising.
"The games were unique in that they were the first on Facebook to be licensed for the car companies," Choi said. "Working with brands and putting them into content is in our DNA."
Nativo, started last year, works alongside his other companies in downtown Long Beach's Landmark Square, with windows that look out over the harbor.
The software Nativo has developed is designed to help online publishers – especially ones that own many websites – fit sponsored content across their portfolio. The goal is to make the process as automatic as possible, so the ads can blend into the page design of differently styled sites.
Ads are placed in a blocked-off piece of real estate, similar to banner ads. But with a few lines of code from each site, Nativo can make one ad look like native content across all the sites. The company doesn't take a cut of ad revenue; instead it charges publishers a monthly fee for using its software. Executives declined to disclose revenue.
So far, ads serviced by Nativo are seen 40 million times a month. As native ads continue to gain traction, Choi thinks the category will boom.
"With more traffic moving to mobile, people will realize that native is the best solution," he said. "People will not put up with pop-ups on mobile."
Problems of Scale
However, Fitzgerald's skepticism about the growth of native ads is still rampant in online publishing.
For one thing, it accounts for less than one-fifth of online ad sales revenue. In 2012, spending on sponsored content was only $1.5 billion, compared with $8.6 billion for banner ads, though native ads grew 39 percent from the previous year, according to a report by Pew Research Center.