CONTEST COMPETITORS TO CRAFT FELINE APPS TO SCORE CATS' FANCY.
Pressing Paws On Video Games
Monday, March 25, 2013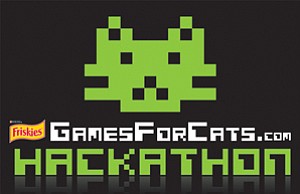 From the halcyon days of a keyboard-playing cat up through the scene-stealing role Grumpy Cat played at this years' South by Southwest festival, the tech world has long been transfixed by the human-feline bond.
Over the weekend, Venice tech accelerator Amplify.LA was to have played host to the latest and perhaps purest form of tech's cat worship: making apps for cats.
The Games for Cats Hackathon, sponsored by cat food maker Friskies, gives programmers 48 hours to create a tablet game designed specifically for cats. Finished products were to be judged by a panel that included tech executives, game makers, but, according to a Friskies spokeswoman, no cats.
Although felines as rule don't have much spending money, there was real cash at stake for the game creators. Nestle Purina PetCare Co., Friskies' parent company, put up $15,000 for first place, $3,000 for second, $2,000 for third. The company is retaining all the rights to the apps made in the contest.
Friskies has produced a litter of cat apps since 2011, which together have amassed 2 million (human) downloads to date. The games are simple and highly visual – a fish swims around the screen and disappears when touched by a cat's paw, for example.
The pet food maker is keenly aware of the longstanding fascination computer types have with their cat overlords.
"This intersection of cats and tech is something that's such a robust space online," said Alison Coburn, an assistant brand manager at Friskies. "The oddity of cats on the Internet is interesting for us and is something that resonates with a huge number of people."
– Tom Dotan