Internet Friend
Former Myspace exec Michael Jones still clicks with tech scene through his incubator, Science.
Monday, March 18, 2013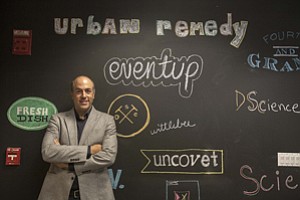 Why did you jump from Myspace into Science and e-commerce?
A double-digit percentage of ad spending has moved online. A much smaller percentage of commerce – general spending – has moved online, and I believe there's longer-term growth to be had. And after my time at Myspace, I said I want to take a breather from big-brand ad sales deals and look at commerce with credit cards coming from customers.
Is there any product you would try to sell through an e-commerce model?
Generally the world buys through Amazon. I don't want to be in a pricing battle with Amazon. If it feels like someone's going to go to Amazon and buy our product quicker, I don't want to touch it.
What about "stuff of the month" e-commerce subscriptions? Why are you so interested in that?
We love repeat transactions from customers. If we can work with them through subscription-oriented transactions or promotions or sales or discounts, it's a great relationship to have. I don't think businesses can sustain themselves on subscription alone. I think businesses that don't offer enough value to the customer to warrant a subscription need to complement a product offering. There's no one-size-fits-all business model.
What about food?
We love food. We've got Fresh Dish (which ships meal ingredients in a box) and Urban Remedy, the juice cleanse company. Our team felt like the experience of grocery shopping was a laborious experience and even if people find time to go grocery shopping, I feel like the majority of the people I talk to say I just spent $200 at the grocery store and I still had quesadillas for dinner.
That's an area marked by failures like Webvan and Pop-up Pantry. How do you expect to make it work?
It's a logistical problem. The joke around here is "How hard is it to get raw chicken into a box delivered to your home?" It's really hard. We spent a lot of money figuring that out.
Your wife has a Ph.D. in psychology. What's that like?
She's on TV and radio talking about love and sex. When crazy stuff happens they seem to call her up; she's becoming a bit less enamored with becoming that person who's like, "You're right. This person's crazy."
Do your careers ever cross paths?
She frequently goes to tech conferences with me and last year she was asked to run a love and sex seminar with all the CEOs. It's one of the optional curriculum pieces to a conference. Of course, I wouldn't possibly want to be in that room so I 100 percent wasn't there.
Probably the right choice. How did it go?
My friend said it was a very educational session.
Have you always been a Westside guy?
No. When I first moved to L.A. I bought my first house in Silver Lake and at that point Silver Lake wasn't necessarily the Silver Lake of today. It was a bit rougher. I had a nice pink hacienda that was up on Occidental Avenue and eventually redid it and sold it. At that point, I was really into surfing, so we moved to Manhattan Beach. When we started wanting room and space for the kids and more nature and outdoors, we moved up to Malibu.
You've got two kids. Between family and heading Science, do you have any time for hobbies?
We do a lot of ceramics. It's all at home. My wife's a pretty avid painter, too. We want to give our kids very tactile experiences through art.
Do you ever give it away as gifts?
As much of it as I can possibly give away. If you can imagine it made out of clay, it's probably somewhere around the house.
Prev Next