Internet Friend
Former Myspace exec Michael Jones still clicks with tech scene through his incubator, Science.
Monday, March 18, 2013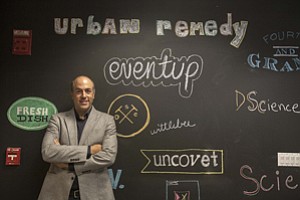 When did Myspace come into the picture?
I got to Myspace as a client of Userplane, when Myspace was in its really early days and just getting going so I was familiar with the business. Jon Miller (former head of AOL) took the role of the head digital officer at News Corp. and reached out and said I'm interested in figuring out what we want to do with the site.
Did you have a Myspace profile?
Sure.
How many friends did you have?
I had a lot when I left. (Note: according to Jones' still existing profile, he has 24,788 friends.)
Myspace is mocked for how much users could customize their profiles.
For the community that used Myspace as a platform of expression, it was such an amazing component to that experience. As an advertiser looking at Myspace, it was very difficult to work around. It's black text on black backgrounds, pictures that are all over the place and friends lists that are all over the place. It was a very difficult feature for them to work through.
Was Myspace always doomed to lose to Facebook?
It opened the gateway for Facebook to exist. Remember, when Myspace came into existence people never would have considered a real-world identity inside a digital system. I think Myspace built a basketball court and everyone started playing basketball but then they eventually wanted to play soccer. Playing soccer on a basketball court isn't that great. But someone created a soccer field there and now it made a lot more sense.
Is Myspace destined to be remembered as the company that led to Facebook?
I would love to think that, but that's probably not the consumer's view on it. There's certainly an industry perspective and an L.A. perspective. But there's a lot more happening there than just the face story.
Was it a mistake for News Corp. to buy Myspace?
I don't think so. There was a lot of money that moved between Myspace and News Corp. It's hard to state the final financial impact on News Corp. That book is not necessarily closed for them.
People talk a lot about the "Myspace mafia" in L.A. tech. How important is the company to what's happening here now?
It's seeped into the L.A. startup community. It's also made investors feel more comfortable putting money into L.A. Whether you're looking at L.A. and Myspace or Chicago and Groupon or New York and Tumblr or Foursquare, any big city with success like ours has really big echoes in the creative space and really does lay a lot of that ground work. For L.A., that really was that story. As we build companies that have multibillion-dollar valuations and great outcomes, I think you'll continue to see that. Every success and, typically, every failure builds more and more successes on top of it.