YouTube Channel Pushes Play on Movie Project
FILM: AwesomenessTV looks to broaden reach with band documentary.
Monday, March 11, 2013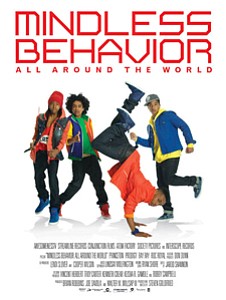 "Risky Listing" is a six-part, one-hour reality series centering on real estate agents who deal in the world of high-profile nightlife venues in New York. It is being produced by Zodiak New York.
The channel previously announced series including "Knife Fight," a cooking competition show co-produced by L.A.'s Flower Films and Authentic Entertainment, and travel series "The Getaway," which will be produced by Zero Point Zero of New York.
The idea is to program male lifestyle content targeted at an upwardly mobile audience that will attract advertisers. Before its rebranding last month, the channel was called G4 and focused on the video-game community.
"We are building an exciting slate of original series for men with style and substance," Matt Hanna, head of original programming for Esquire Network, said in a statement.
Mobile Maneuver
DreamWorks Animation SKG Inc. is hoping to get an "Angry Birds" bounce at the box office for its upcoming release "The Croods."
The Glendale animation studio announced that it will release a mobile game based on the movie and developed by Rovio, the Finnish firm behind Angry Birds, on March 15.
The game will feature fictional Stone Age-inspired characters foraging for food along with other creatures.
Rovio previously partnered in 2011 with 20th Century Fox for the Angry Birds Rio game, which piggybacked on the monumental success of the Angry Birds games to help popularize the characters from the movie "Rio".
DreamWorks is similarly hoping the game can spur some early excitement for "Croods," which is set for release March 22.
There is much at stake for DreamWorks. The studio's previous release, "Rise of the Guardians," missed box office expectations and caused the studio to take a large write-down in its latest earnings.
Staff reporter Jonathan Polakoff can be reached at jpolakoff@labusinessjournal.com or (323) 549-5225, ext. 226.
Prev Next