FILM: AWESOMENESSTV LOOKS TO BROADEN REACH WITH BAND DOCUMENTARY.
YouTube Channel Pushes Play on Movie Project
Monday, March 11, 2013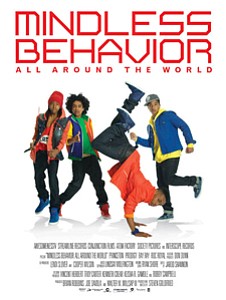 YouTube content is making the sizable jump to cable TV with greater frequency. But AwesomenessTV, an L.A.-based YouTube channel, is making the even larger leap to the big screen.
Awesomeness, which produces content aimed at a teen audience, is releasing its first feature film, "Mindless Behavior: All Around the World," into 117 AMC theaters March 15. The movie documents the international tour of L.A. boy band Mindless Behavior, and expands on tour footage that has already aired on the Awesomeness YouTube channel.
The company is both the producer and distributor of the film, and co-founder Brian Robbins said it used digital production, marketing and distribution to keep costs down.
"This is the model we've been hoping for," said Robbins, who has produced TV series such as "So Random" and "Smallville," and theatrical releases "Varsity Blues" and "Good Burger." "You're able to build something online and (forge) a relationship with the audience. If you know how to reach them, you don't need $40 million of marketing money."
The project started to come together last year, as Awesomeness was launching with the goal of becoming a major teen destination. Robbins spoke with longtime friend Troy Carter, who manages Mindless Behavior and other acts including Lady Gaga.
Robbins pitched Carter on the idea of documenting the overseas portion of the band's tour and posting the videos to his YouTube channel. When the videos racked up large numbers of views online, Robbins decided to follow the tour back to the states and make a full-length feature film.
AwesomenessTV was the 14th most popular channel on YouTube in December, according to L.A. digital marketing firm Blayze Inc.
To get AMC on board with exhibiting the movie, Robbins pitched a theatrical rollout concentrated in parts of the country where the band sold tickets to its shows with ease. He said he was also able to secure a box office revenue split of about 50-50 with the chain, which is typical for studio distributors.
Awesomeness expects to feed off the hype from the release of Mindless Behavior's sophomore album, which will drop March 12.
New Look
Cable channel Esquire Network of Miracle Mile unveiled more of its new look last week.
The NBCUniversal-owned channel announced it gave the green light to two more original series, "How I Rock It" and "Risky Listing."
"How I Rock It" will be hosted by pro basketball player and native Angeleno Baron Davis and will profile style icons and influencers. It is being co-produced by L.A.'s Ryan Seacrest Productions and Citizen Jones.
Prev Next