Fresh Script
Talent agency CAA tries role of tech startup investor
Monday, March 11, 2013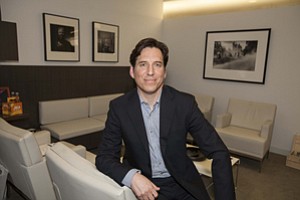 Still, many in the local tech community gladly welcome the agencies playing the role of financial backer, and despite earlier missteps, they recognize the benefit of Hollywood's gaze nonetheless.
Local tech companies have been greedily tapping into L.A.'s endless supply of celebrities willing to sponsor products.
Successful e-commerce firms such as Santa Monica's ShoeDazzle Inc. and BeachMint Inc. rely heavily on celebrity pitch women Kim Kardashian and Rachel Bilson, respectively.
Jeff Solomon, who heads Venice tech accelerator Amplify.LA, has had several meetings with CAA and other agencies about deals to get them involved with startups. Although he applauds their embrace of tech, some of the progress is stymied by what he views as a conservative approach.
"Agencies talk a lot about making investments, but I haven't seen a lot of activity with our companies or the ones that we've introduced," Solomon said. "Maybe they're feeling out the landscape before actually getting out there and making big bets."
Changing attitudes
A little over a decade ago, discussions on any level between tech and entertainment would have seemed unlikely. Tech was associated with file sharing and a laissez-faire view on intellectual property, at odds with those whose livelihood was made by creating and protecting content.
Things changed when Apple Inc. partnered with music labels to sell songs through its iTunes store. The door was opened for other wings of the entertainment industry to be part of the shift in personal technology.
"As entertainment budgets are changing and times are changing, the agencies are looking to generate cash in ways beyond that traditional 10 percent (commission)," said Alec Shankman, who heads digital media at Beverly Hills talent agency Kaplan-Stahler. "Both sides have a vested interest in figuring out how to work together."
For CAA, building Funny or Die in 2007 was as much about leveraging the comedy talent it represented – in this case comedian Will Ferrell – as it was about partnering with outside investors. The site produces and streams original comedy videos and is co-owned by Menlo Park's Sequoia Capital, Ferrell's production company and CAA. Neither Yanover nor an agency spokeswoman would disclose the amount of money it invested in the site.
Paradigm has advised and contributed to a number of tech companies, including Santa Monica comedy app maker Laffster, which the agency invested in.
Brent Weinstein, who heads UTA's digital media efforts, said the role the agency plays in the worlds of entertainment and celebrity makes it an ideal co-founder of digital content companies.